Building a world where ideas and technology meet.
Creating their branding movie.
PROJECT ― TOKUSHU KINZOKU EXCEL CO.,LTD.
Spreading technologies and ideas throughout the office and around the world in movie form.
TOKUSHU KINZOKU EXCEL CO., LTD. (Hereafter, TOKKIN) is looking forward to its 78th anniversary as a manufacturer of highly-functioning metals. TOKKIN deals in the development, production, and sale of high value-added metals created through a combination of core technologies including precision rolling, microstructural control, and composite-manufacturing technologies.
They carry a uniquely wide range of products, taking advantage of the robust responsiveness afforded by inter-department cooperation and development in an environment where employees work together to address the needs of a diverse client base. Since their founding, they've gone on to produce over 50,000 types of highly-functional metals which are used in products people use every day, all throughout the world. What lies at TOKKIN's core is the spirit of spontaneity and challenge held by each of their employees at the manufacturing, development, and sales levels.
TOKKIN wanted to create a movie that could not only be used to spread the company's values and culture around the world and to prospective employees, but as a communication tool that would help reinforce the company's ideals and mission to its employees. That is where Loftwork stepped in.
Outline
Background


・To communicate TOKKIN's corporate values and culture to the global market and current customers.




・To reinforce the company's ideals and mission to its employees.

Support


・Define goals, preliminary research




 - Research the company's history and document the employee's workday.




 - Refine and articulate tasks and goals based on the collected information.




 - Refine (as necessary) based on how and where the movie would be used.




・Composition planning




 - Film and arrange cuts based on the articulated goal and anything the client wants to be highlighted.




・Shooting a movie and Selecting music




・Movie editing/MA




 - Assign the studio, technicians, and narrator.




 - Create the voice-over script.




 - Overlay English subtitles.




 - MA direction.

Organization


Client: TOKUSHU KINZOKU EXCEL CO., LTD.




Producer: Miyuki Ida




Project management: Yuta Kuronuma]


Creative direction: Yuta Kuronuma


Filming and editing direction: Yoshihiro Tamura, Hideki Nishizawa (EXIT FILM)
Output
We utilized transitional effects to highlight TOKKIN's inter-organizational collaboration, one of the company's key strengths. We staged the film as a star-studded documentary, capturing the average employee's workday to convey the grand challenge of their work and to emphasize their individual importance in TOKKIN's process.
Process
Define goals, preliminary research
We started by pouring over TOKKIN's history as documented by its own employees. This helped us to learn more about their past and appreciate their vision for the future. With the help of the COO and a few people working right on site, we were able to ask for more information about TOKKIN's developmental process, their products, and their strengths and strategies around the world, learning more about their ideas for success right on the ground floor. This research laid the groundwork for our film and gave us ideas on what images could best convey TOKKIN's spirit.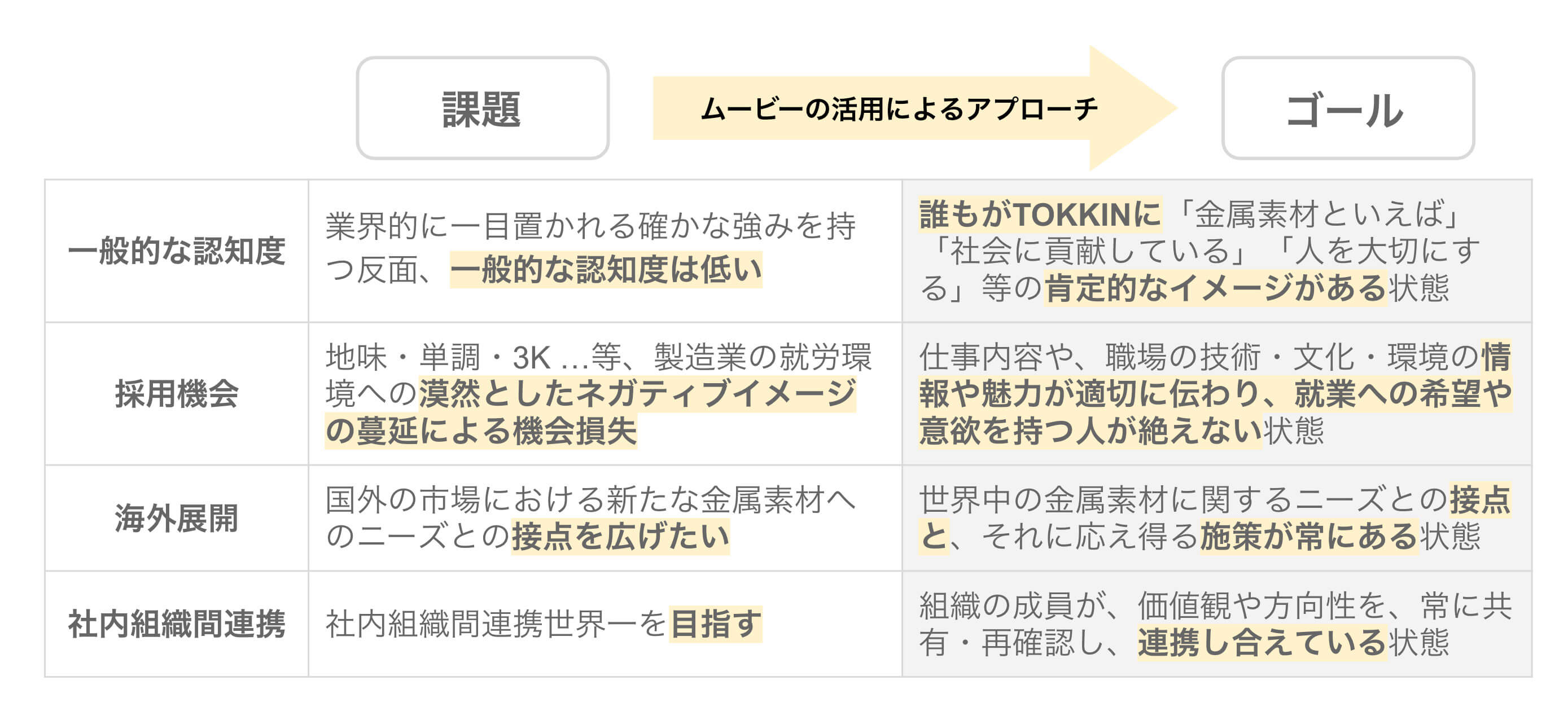 Building off this information, we were able to lay out our tasks and determine which goals we would need to accomplish in order to achieve them. We also thought ahead to which task would be most essential to drive the movie's production (the output) and laid out our process.
We also had to consider the role of this movie, which was to be a communication tool that the company could roll out in various theaters of communication to help propel them toward their goals.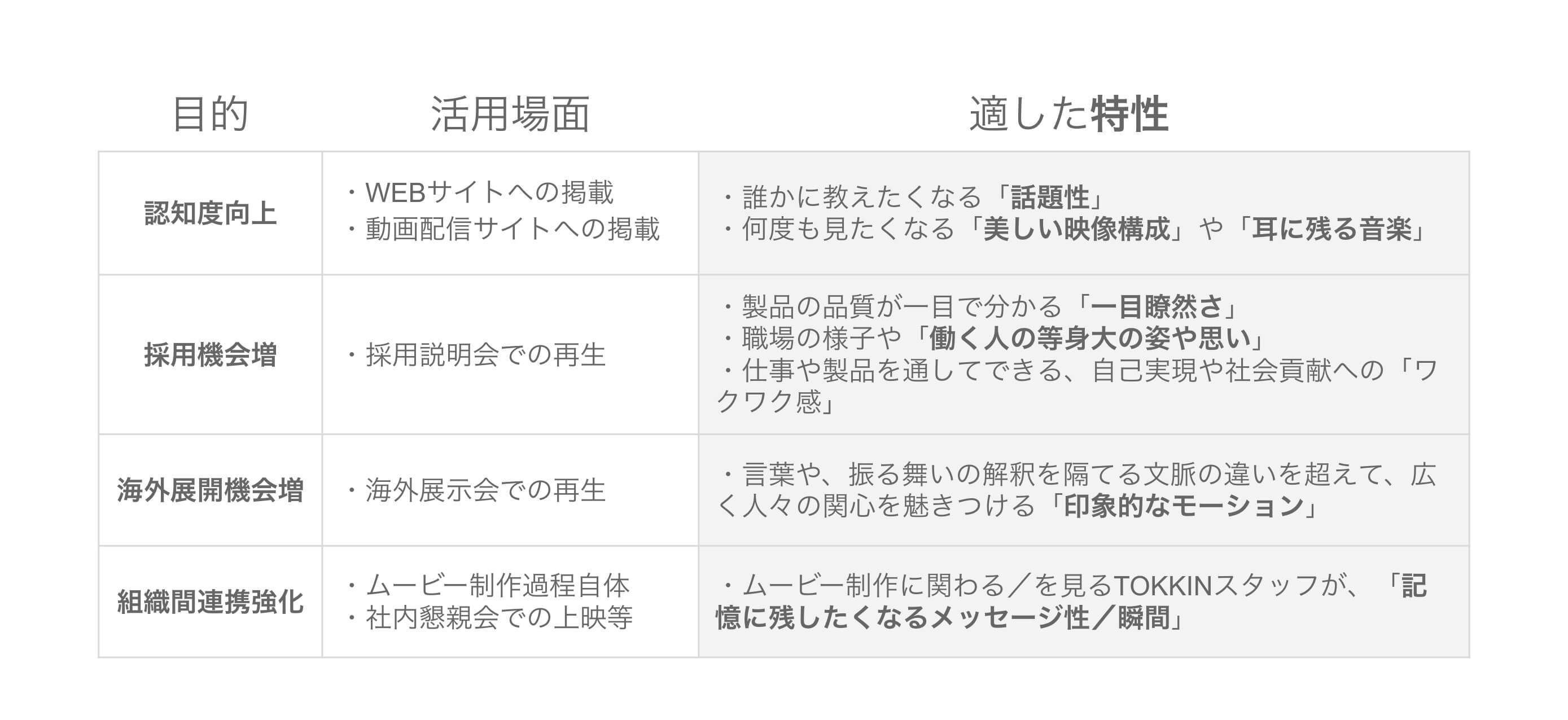 After that, we began dreaming up which situations the movie could be used in most effectively. The next step was reverse-engineering the movie to figure out what sort of shots could most effectively accomplish these goals and highlight what set TOKKIN apart from the competition.
Composition planning
Drawing out the best performances from our stars
We made the rounds to each department, filming employees as they went about their normal days at work in documentary-style, utilizing transitional effects to promote a sense of unity while emphasizing how each department worked together.
Furthermore, we didn't want to shoehorn the movie as a promotional appeal to prospective global partners; we wanted this movie to appeal to their shared philosophies and to hopefully serve as the cornerstone for relationships based on these. To accomplish this, we stepped away from formulaic introductory narrations, instead contextualizing the movie as a story told from TOKKIN's perspective, relating their mission and the culture they cherish.
Thoughts from the team
Such a heart-touching production.
This project gave us a chance to reflect on our past and tell our story.
How we've believed in—and never compromised on— the limitless potential of metal as a raw material.
How we take on new challenges every day to give our clients the market advantage.
How every time we've thought we've hit a wall, our teammates are there to give us a friendly push forward.
How our products save lives while enriching them at the same time.

These are what drive us forward, give us joy, and are the reason we pursue new challenges day after day.

Mr. Kuronuma and Ms. Ida from Loftwork, Mr. Tamura and Mr. Nishizawa from EXIT FILM, and the script-writers all went above and beyond, and I was incredibly touched to see our passion and preeminence set to film and music.
The production they created was nothing short of heart-touching, and really, that's what it's all about.

TOKUSHU KINZOKU EXCEL CO., LTD. Tokujiro Mizutani, COO
The passion and love the employees of TOKKIN feel for metal translated into an emotional narrative with touching imagery. Through this project, I was able to feel their pride, their passion for their vision, and the depth of their inquisitivity. We were able to portray their attitudes on these things through special effects and image sequencing to convey the independence of each staff member and how they worked seamlessly beyond their positions.

EXIT FILM Hideki Nishizawa
When reading about TOKKIN's 70+ year history, I was struck by their shockingly warm documentation, which went into detail on who joined the company and when, what people liked about them, and what they went on to do after they left. Amazingly, this warm commentary wasn't limited to executives; it extended to totally normal employees, regardless of what position they held. It was very striking.

I've encapsulated everything I wish to convey in the movie, so please take a look. My extraneous commentary notwithstanding, the fine members of EXIT FILM have a certain skill and sensitivity which allows them to beautifully capture the every-day flair of TOKKIN employees in a way that everyone can appreciate. It goes without saying that I hope this film helps contribute to TOKKIN's future successes.

Loftwork Creative Director Yuta Kuronuma
Other Projects