Designing a new communication tool and sensory standards for αGEL
PROJECT - Taica Corporation
Finding comfort through communication and sensory experiences
Taica's core product and technology, αGEL, is an extremely soft, gel-like substance. Businesses that use this material are testing out endeavors that go beyond functionality and performance through R&D.
Taica and Loftwork have launched a project using αGEL that transcends the traditional functional values of shock absorption, vibration reduction, or heat dissipation. The project focuses on the sensory value (touch) as a way to extract the value of comfort, through experience and communication. The collaboration seeks to find new possibilities for gel and redefine its value.
Project Outline
Support Details
・Research
・Workshops
・Communication tool design based on sensory value indices (UX mapping)
・Interactive experiences through tool kit design
Project period
・October 2018 to February 2019
・Structure
・Client:Taica Corporation http://taica.co.jp/
・Producers: Kazuya Ohara, Miyuki Ida
・Project management: Mami Jinno
・Creative director: Minori Kuwabara
・Haptic researchers (external members): Kouta Minamizawa (Associate Professor, Keio University Graduate School of Media Design) ,  Junichi Kanebako (Assistant Professor, Advanced Institute of Industrial Technology Innovation for Design and Engineering Program)
・Product design: Hideo Kambara (BARAKAN Design)  http://www.barakan.jp/
・Visual design: Shinji Hamana (beach inc)  http://beach-inc.com/
Background
In the 70 years since its founding in 1948, Taica Corporation has been working as technology development company dealing with multifunctional material. In recent times, they have been working on creating high quality products in different fields with the intention of setting themselves apart from conventional manufacturing companies. With that in mind, the company has been holding internal competitions to encourage each employee to come up with new ideas for business and product development. We talked to Hideyuki Uchida and Manabu Mikuni, the two members from Taica who were in charge of this project to hear more about the background and impressions behind it.
"Everyone at our company is encouraged to try new things. We see new ideas coming up from all around."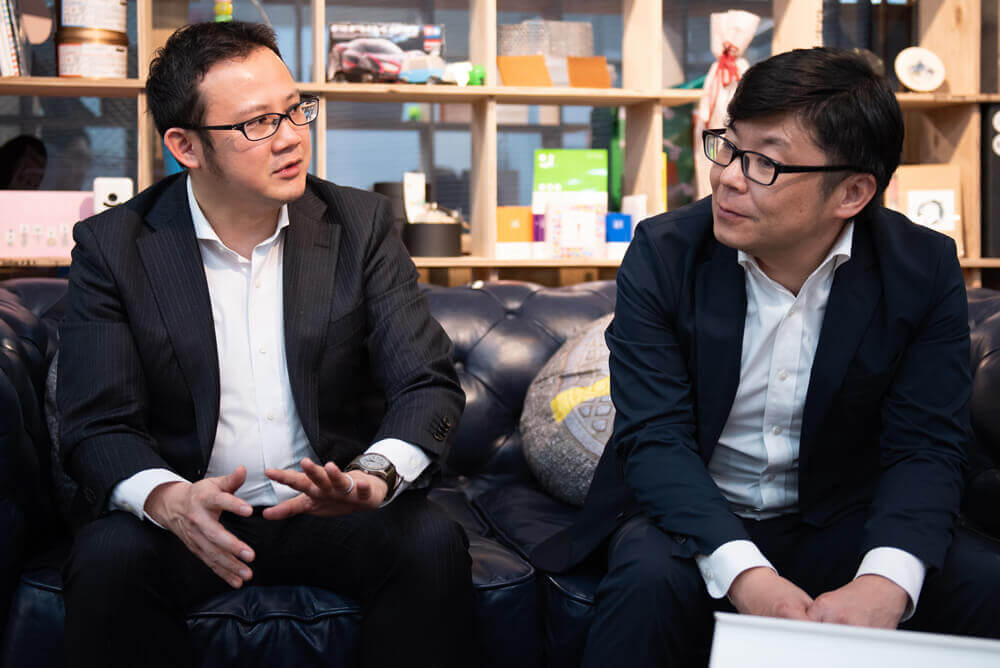 Uchida: Mr. Mikuni had won a business idea contest in our company. Everyone at our company is encouraged to try new things. We see new ideas coming up from all around.
Mikuni: I was worried about how much my idea could actually contribute to the business once it took form. But it was not just about my idea; I wanted αGEL to pioneer new domains in business. As a researcher, I am usually in Shizuoka Prefecture, but I became a part of Mr. Uchida's team in Tokyo and wanted to come up with something new within two to three years.
"Many people are interested in texture and I was always trying to come up with ideas for its application."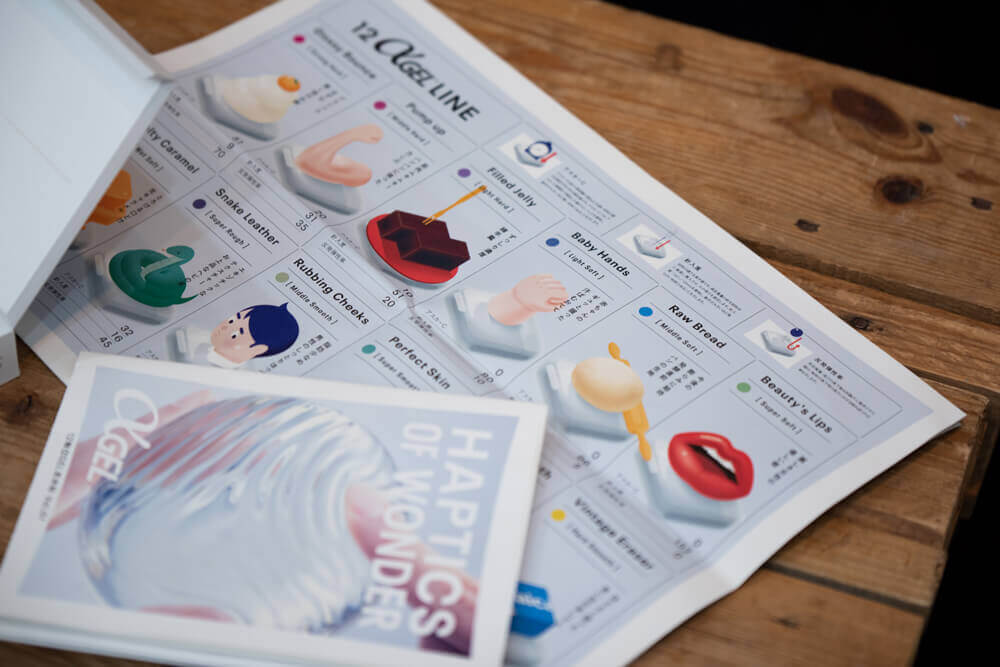 Uchida: Initially, we brought "cut samples" to our meetings with clients, where we would have discussions while actually touching specimens of αGEL. The clients would usually mention how good they felt to the touch. Many people are interested in texture and I was always trying to come up with ideas for its application.
Mikuni: a cut sample is simply just a threadbare material sample. I was concerned that this kind of plain chunk of material wouldn't convey the true value of αGEL.
Uchida: Then, we consulted with Mr. Ohara about redefining the value of αGEL by promoting it as a sensory substance. Our business domain is "multifunctional materials." In the past, it was usual to express the functional side of αGEL through numerical values, but I thought it would be interesting to extend that to the field of textures and haptics.
"Aiming to create a sensory standard"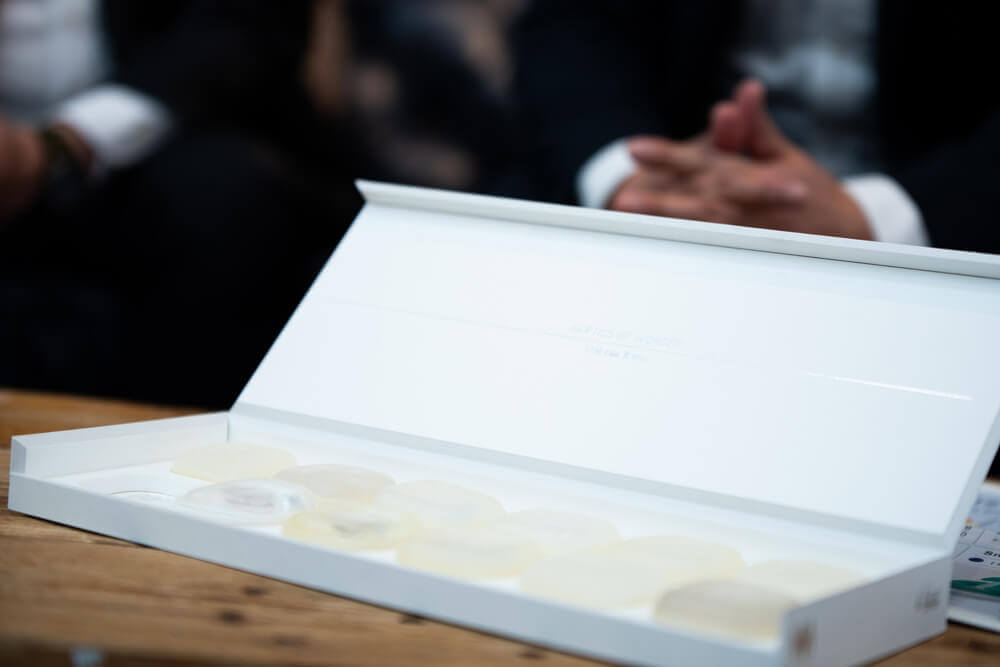 Uchida: I interpreted suggestions from Loftwork's Mr. Ohara in my own way. We even had discussions within the company about making a standard for sensory substances. It all came together nicely. We thought of designing things that could become a standard for that domain at Taica and created a UX map as well as an interactive tool kit.
Mikuni: Changing the numerical values for objects can lead to infinite variations. For example, by changing the hardness of a gel from 43 to 45 means that the number has changed, but what does that really mean? How does that help anyone? With this project, I had to face these kinds of dilemmas as a researcher.
Outputs
UX map "HAPTICS OF WONDER"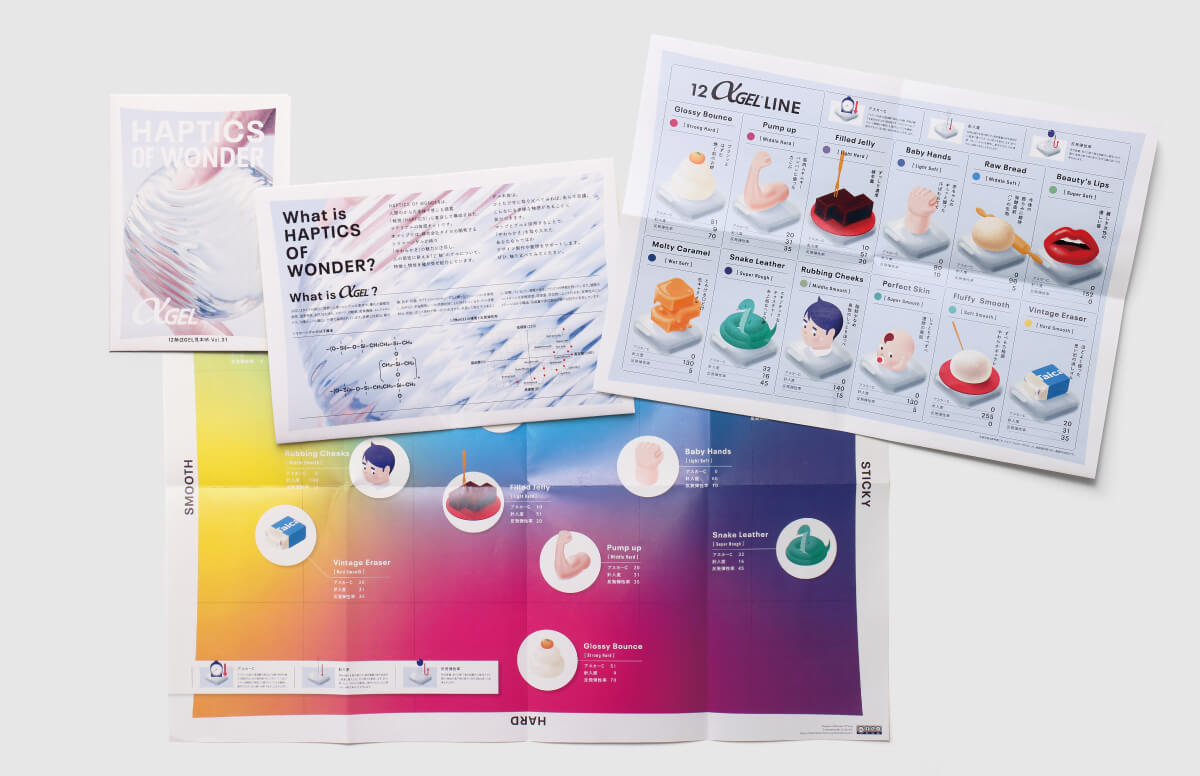 The UX map was constructed with a focus on the sense of touch experienced by the entire human body (haptics).
This allowed Taica's flexible material, αGEL, to be evaluated not only from the functionality aspect, but also the sensory side. The materials were plotted on the axes of SOFT↔HARD、STICKY↔SMOOTH to present the variety of their textures.
A large number of samples were distinguished by their feel in workshops, and 12 distinctive types of αGEL were selected. They were named based on a research method examining the relationship between phonemes and impressions. The map lets viewers easily distinguish their textures. For new products or design, the map can serve as a source of inspiration. We expect that this pioneer a whole new domain for the application of αGEL.
An interactive tool kit with 12 samples of αGEL (vol.1)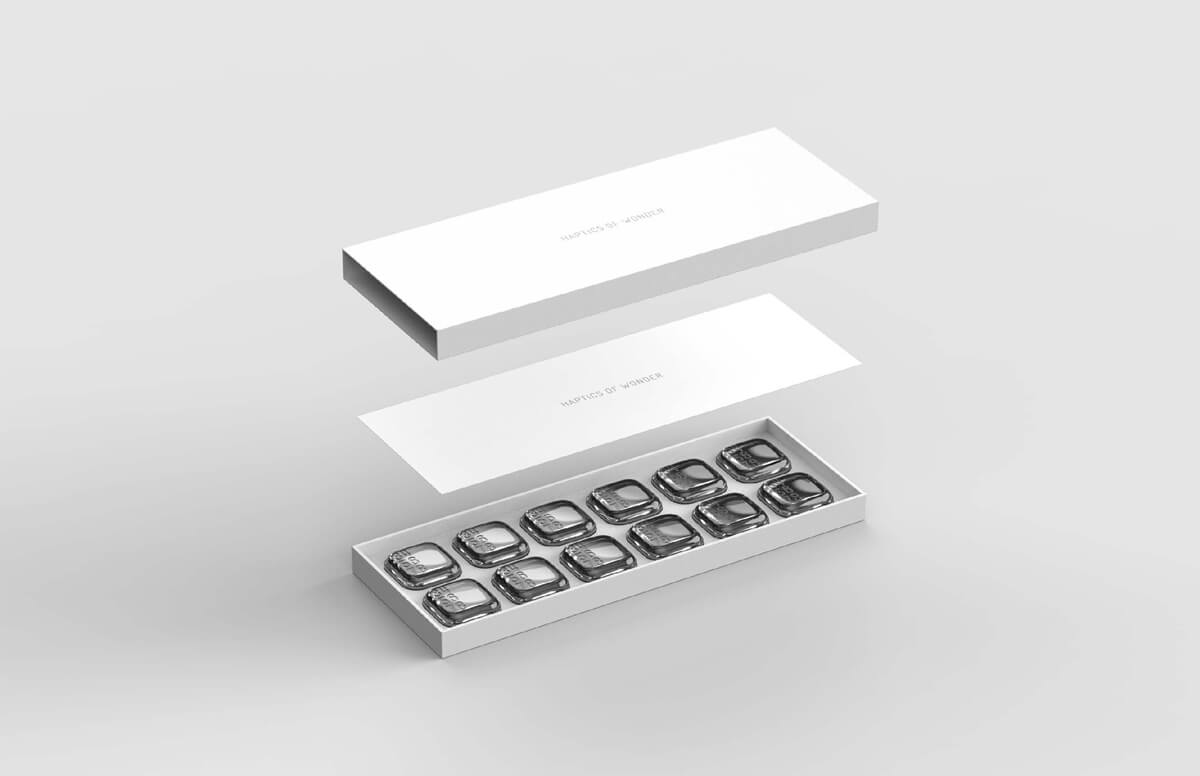 This sample kit contains 12 types of αGEL. The packaging allows users who want to incorporate αGEL into design to get a feel for each type.
Just like a coloring book with 12 colors, this kit has 12 textures, letting users experience each gradation. By using it with the αGEL UX map, HAPTICS OF WONDER, users can get an idea of the distinguishing features of each gel.
Process
Workshops to find haptic indices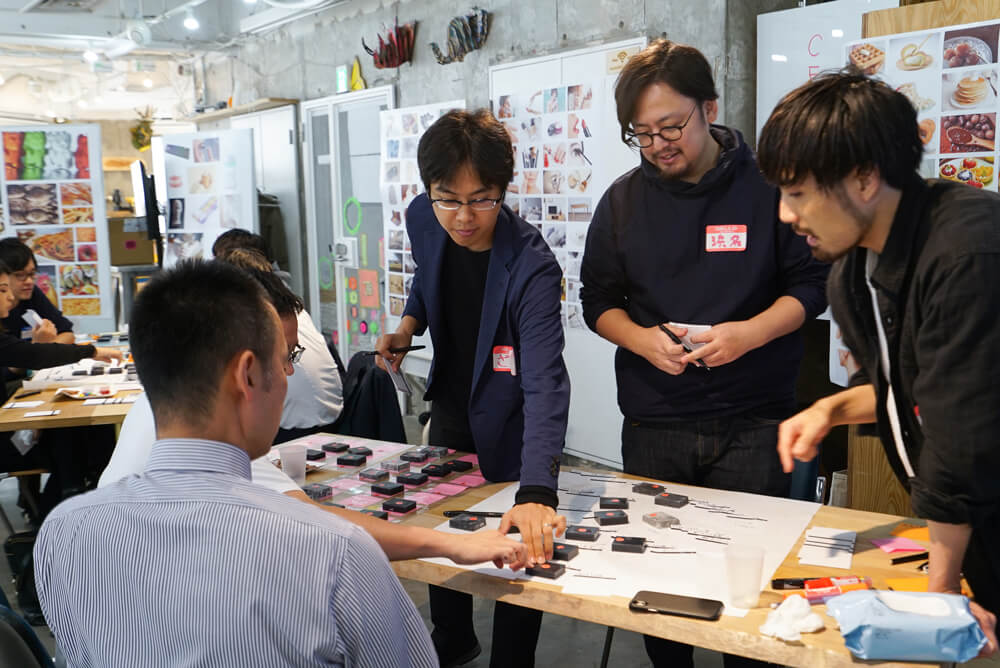 In terms of developing volume 1 of the sample set and the UX map HAPTICS OF WONDER, we conducted workshops to find haptic indices. The purpose was to design a space which could accommodate a variety of participants, where people could come up with ideas while physically touching the samples. Participants in the workshops included Taica employees (research and sales staff), haptic researchers, designers, blind participants, and copywriters.
First task: Mapping out texture using 3 axes: ROUGH-SMOOTH, DRY-WET, HARD-SOFT
・31 types of gel were provided. They were all colored black so that participants were not biased by appearance. Participants were asked to intuitively map them.
・After mapping the gels, each piece was compared with the ones around to ensure that they were aligned accurately.
・Stickers were placed directly on a transparent sheet over the map to plot it in consensus with the entire group.
・The texture maps from each team were integrated and the gels that would serve as indices were picked out.
* Texture map: After collecting 42 Japanese texture-related onomatopoeia, the image each word possesses was looked into experimentally. The map was made so that each texture would be placed near the word it stirred images of.
[Reference] Classification Method of Tactile Textures Using Onomatopoeias – Tomohiko Hayakawa, Shigeru Matsui and Junji Watanabe, Transactions of the Virtual Reality Society of Japan, 15(3), 487-490, 2010.
Second task: Selected gels were named according to their texture using appropriate keywords
・Each participant had to name the gels using metaphors (an easily relatable object or experience)
・The names were shared with the group. The most relatable names were used as a base to brush up on.
Workshop results and following steps
There were two major trends with naming – adjective based names like "tight smooth" or "wet smooth," and metaphorical names reminiscent of events or conditions like "hard workout" or "microwaved rice cake."
Based on these results, the texture evaluation indices' communication tool includes adjective-based expressions as well as poetic expressions that stir up images when they are touched. After the workshop, a sound study was conducted to verify the appropriateness of each expression. The final names were decided by repeatedly testing the pronunciation within the teams.
[References] Relationship between Judgments of Comfort and Phonemes of Onomatopoeias in Touch – Junji Watanabe, Arisa Kano, Yuichiro Shimizu and Maki Sakamoto,  "Transactions of the Virtual Reality Society of Japan" 16(3),2011.
Maki Sakamoto, Junji Watanabe. "Bouba/Kiki in Touch: Associations Between Tactile Perceptual Qualities and Japanese Phonemes". Frontiers in Psychology,(9)295,2018.
Other Projects