Transforming ideas into reality over three days.
The material development project
PROJECT - LIXIL Material Science Research Institute, Inc.
Tackling material innovations that defy conventional wisdom
during an immersive three-day camp.
They resist dirt, discoloration, and are virtually indestructible.
Japanese building materials are world-renowned for their long-lasting high quality, yet innovations have stagnated as technology advances while competing countries move to commoditize their own technologies and building materials.
At the material science laboratories of LIXIL—a company which provides housing services—there is a project underway to formulate the concepts behind new material developments.
The people of LIXIL came to Creative Lounge MTRL Kyoto, an institution themed around materials, to participate in an intensive camp geared at dreaming up a material of the future; one which would pave the way to a brighter tomorrow.
Project outline
Topic


Workshop




program planning and development

Organization


Creative Director: Ryo Kanazashi、Yuiko Nagai (Loftwork)




Producer: Takashi Shirae (Loftwork)




MTRL director: Kazuha Ohara (MTRL、Loftwork)




Special guests:Shun Horiki (architect), Riku Yamakawa (Guri Architects), Atsushi Ichino (MOVEBELL SITUATION representative, designer), Shinichi Kawakatsu (part-time lecturer at Kyoto University of Art and Design and Kyoto Seika University)

Time period


November 2017 – March 2018
PROCESS
Exploring the concept of new materials via "Research through Design"
Rapid prototyping & research: refining developed requirements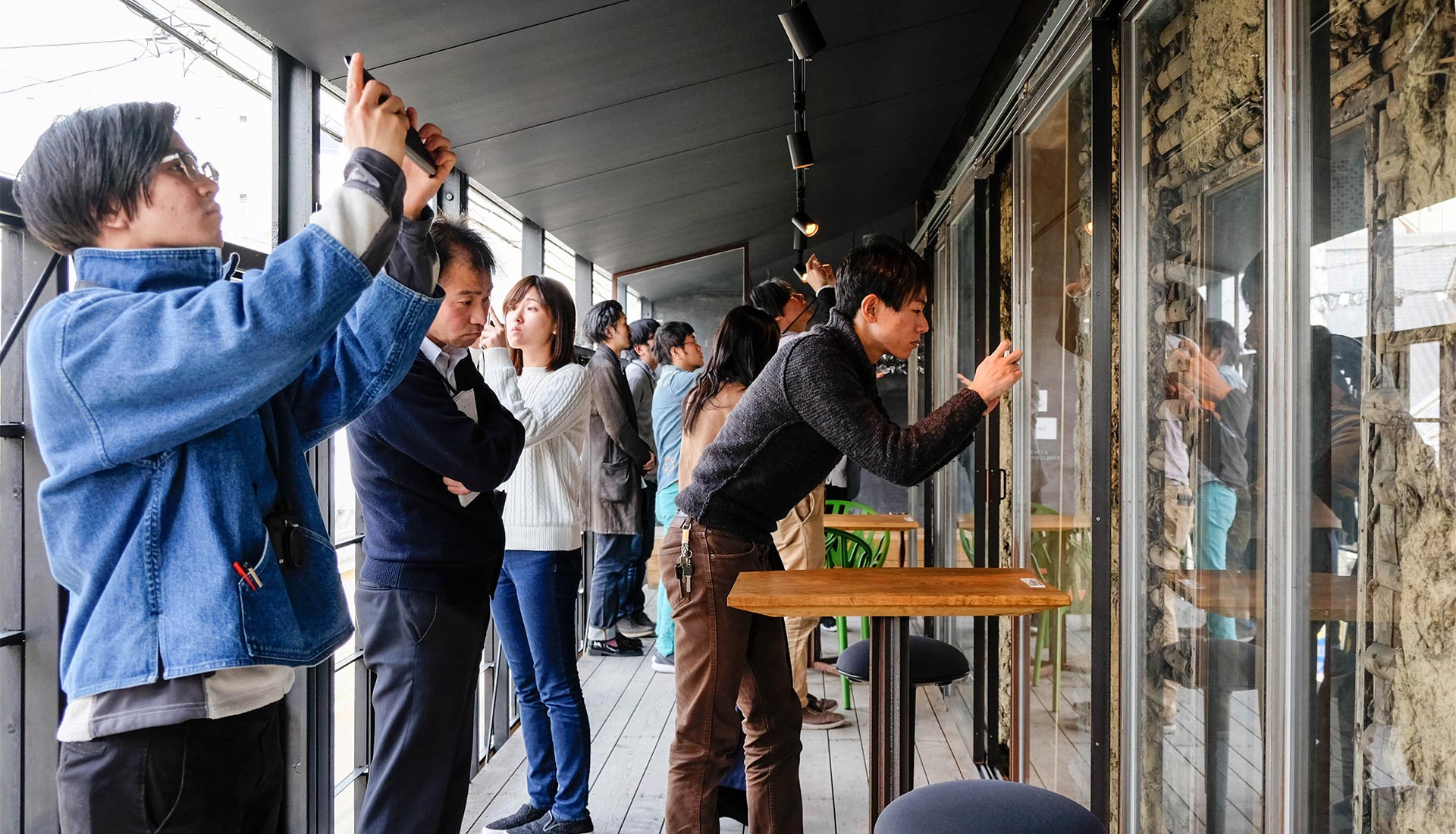 How does one create a concept of development that is unique yet simple while appealing to peoples' sensibilities? We chose the "Research through Design" method as the pathway to creating new ideas; this would allow participants to identify and resolve issues through hands-on development.
Research through Design breaks the creation process down into a series of simple, repeatable steps: first is observation and task-determination; second, articulating and establishing a hypothesis; third, production; fourth, verification and evaluation; fifth, strategizing solutions followed by observation, and so on. This method hinges on clearly identifying what must go into new materials, and then repeatedly refining those ideas.
*"Research through Design" is a process proposed by author Christopher Frayling which advocates for design through practical exercises. This approach, along with many others, was published in "Research in Art and Design,"Design: Royal College of Art Research Paper, Vol.1, No.1, UK, Royal College of Art, 1993."
Our task was to provide an efficient research environment where project members could gather for brief, intense periods of concentration. These meetings were held in an immersive, camp-like atmosphere at the material-centric Creative Lounge MTRL.
Four creators were also invited as special guests to provide their perspective as users, supposing they would be using the materials proposed.
The four methods of research: observation, discovery, ideas, and evaluation
The process was broadly divided into four different approaches.
Observing materials in everyday life
Participants took to the town to observe a variety of building materials, taking photographs of whatever sparked their interest on an instinctual level. How did these materials harmonize with their environment and how did they react under certain conditions? What sort of impressions and emotions did they inspire? Participants would touch the materials, note their textures, and imagine the stories behind the materials as they recorded their observations.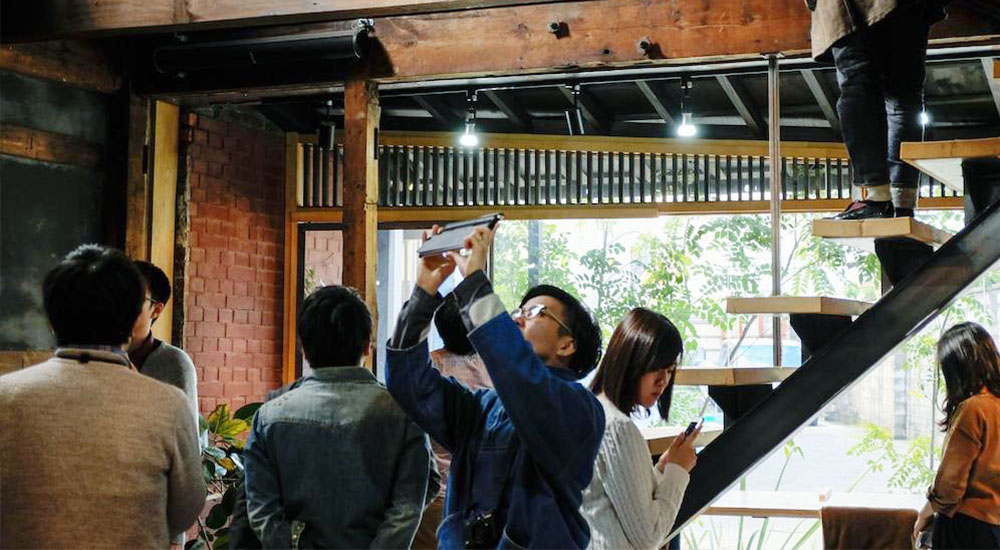 Articulating the results of their observations and identifying keywords
Each participant presented their field recordings before other project members, articulating the value of each material. Through a series of probing questions, members would identify what drew them to that specific material, refining and reinforcing their word choices by tackling the discussion from different angles.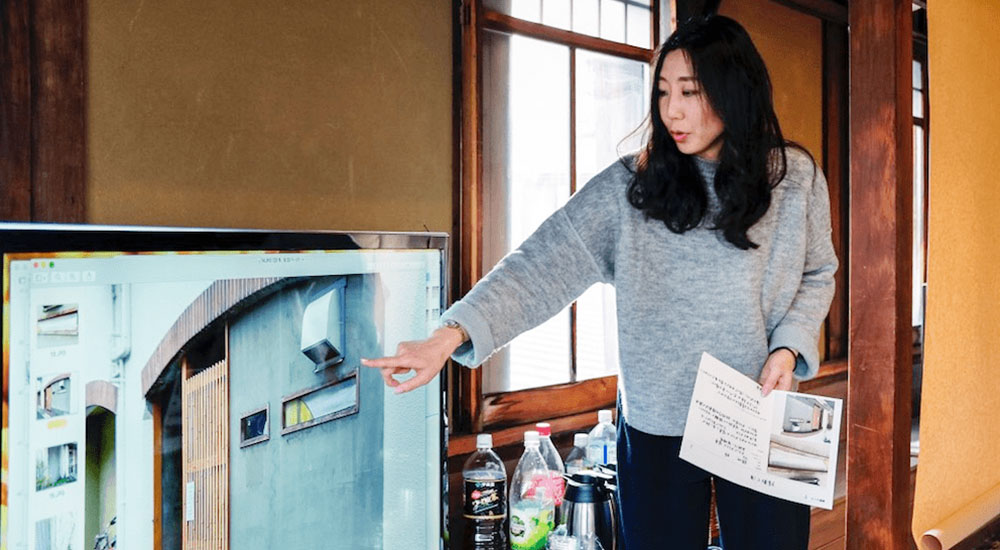 Crafting ideas from keywords
The next step was to assign each newly-specified keyword to the appropriate areas and scenarios. What if we applied this perspective to the flooring materials? What is the fundamental purpose of a balcony? How should an exterior wall be altered depending on its function? These keywords were then applied to their corresponding materials, and pencils were put to paper to sketch out the members' actual ideas.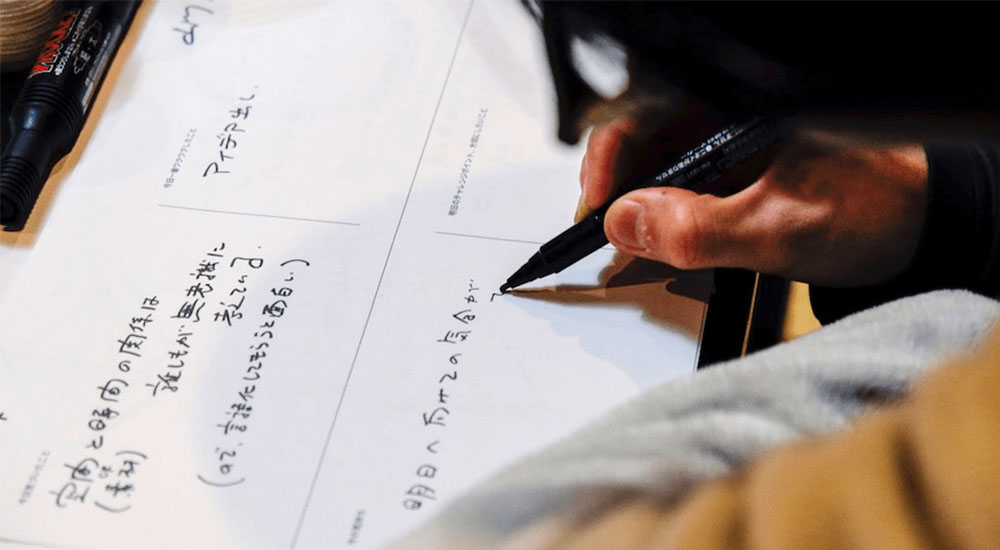 A continuous cycle of production and evaluation
Over 70 ideas were generated as a result of this exercise. These ideas were categorized and sorted into four quadrants: brand new materials the world has never seen↔a combination of pre-existing technologies, and market demand (high)↔market demand (low)
And so the program came to an end. Next, the idea will be given form as a prototype, followed by a process of verification and evaluation, followed by even further observation.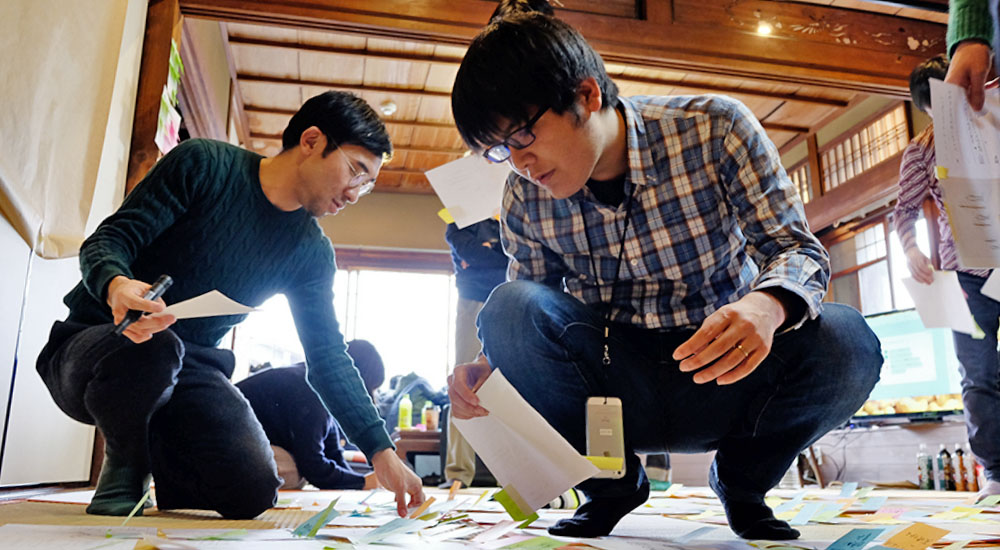 Other Projects