Material Meetup TOKYO vol.04 "The Power of Science" – Report
Material Meetup vol.04, was held in June 2019, and had the theme "The Power of Science." All of these manufacturers are approaching the concept in innovative new ways, uncovering new possibilities, and using the materials as means to communicate. Here is a report of this exciting event that inspired its participants who got to learn about these advanced materials and the endeavors.
The creative platform "FabCafe MTRL" is a place that allows you to experience unique materials from all over Japan. It regularly hosts "Material Meetup TOKYO," an event that showcases innovative materials and engineering.

Exhibit Overview: Material Meetup TOKYO vol.04 "The Power of Science." https://mtrl.com/tokyo/event/material-meetup-tokyo-vol-4/
Foamed Materials with Marbled Patterns. Electric Circuits to Fit Curved Surfaces – The Progress of Materials via the Power of Science
COLOR POLYMOCK(SANWA KAKO CO.,LTD.)

The company has half a century of experience in the manufacture & manufacture of foamed materials. If you have lived in Japan, you must have in some way or the other used products from Sanwa Kako, such as pool floats, etc. "COLOR POLYMOCK" is the company's new material that attempts to open innovative possibilities by modifying the intrinsic appearance of foamed materials.
A project utilizing self-designation, starting from the creator, was used in the development of this material. It is made by using heat crimped chips of foam, used in making flutterboards, and is cushiony and lightweight. At the same time, it makes dull and plain foam look colorful and peppy by using color combinations to suit personal taste. It has also garnered love and praise even from people who initially, at the stage of development, were unsure about the outcome. Everyone went "That's so pretty!" when they saw it.
COLOR POLYMOCK was unveiled to the public at the 2018 IFFT/Interior Lifestyle show. It is primarily used in making familiar interior decorative items such as cushions, clocks, and benches. "We are, after all, manufacturers of materials. We seek to team up with partners with whom we can broaden its avenues of utilization even further." –Saito, showing ambitions for exhibitions here on.
Thermoset Stretchable Material (Panasonic Corporation)
Panasonic is recognized today as a consumer electronics brand, but looking at their history, they started as a manufacturer and seller of wiring devices. Over the years, they have been researching various kinds of materials engineering to make their products even better. At Panasonic, the research is still being carried forward actively by the division for the development of materials indispensable for electronics such as circuit boards materials and sealing materials for guarding semiconductors, etc.
The demands for "Thermoset Stretchable Material", their latest research innovation, have been on the rise. It is a material well suited for uses in the likes of wearable devices. Having excellent heat resistance as well as maintaining the properties of thermosets, it is a highly stretchable, tension alleviating, and practical material. You can even attach components to circuits made using this material using traditional solder. Its elasticity allows it to be used in curved and bent places such as joints.
Until now, the Electronic Materials Division has been somewhat of an unsung hero, researching to fulfill the needs and demands of the electronics field primarily. However, from now onwards, its field of utilization seems to be on the rise. The new possibilities of this material with thermosetting and stretchable properties are something to look forward to.
Giving Rise to New Communication via Materials – The Philosophy of "MOLp®"
What kind of strategy and approach does it require to integrate technologies that have never been seen before, into society? We had a chat with Yuri Matsunaga, who handles the company's public relations, and is a founder of MOLp® (Mitsui Chemicals Material Oriented Laboratory), a cross-functional, open laboratory endeavor of Mitsui Chemicals Inc.

MOLp® was founded at Mitsui Chemicals with the idea that "People become active when things are fun. It attracts them." It goes beyond the conventional boundaries of a company's divisions and history. It comprises a team of about 20 people working at a leisurely pace of half a day every month.
They "Create new communication via materials."By putting this vision into action, the team tackles initiating new value-chains using a variety of materials.

For example, making wind chimes by using the property of lenses used inside smartphone cameras that they ring like metals when struck. They bring new value to materials by turning aspects considered challenging, into attractions.

NAGORI®, a resin made using seawater, won the 2018 "Good Design Award" in Japan. The first independent exhibition, "MOLpCafé" introduced refreshing new lifestyles made possible by unique materials. The fact that the members are getting to experience their skills and their sense of vivacity is most notable; they are putting in voluntary efforts that are outside of their duties. They are giving impetus to communication not just outside of the company, but within the company as well.

"Because it is a space of freedom, rather than being reward-based, it gives rise to open collaborations and mutual growth. What is it that I can do, how can I contribute? At MOLp®, by meeting the expectations set by society, we would like to nurture and grow the motivation of the organization." – Matsunaga.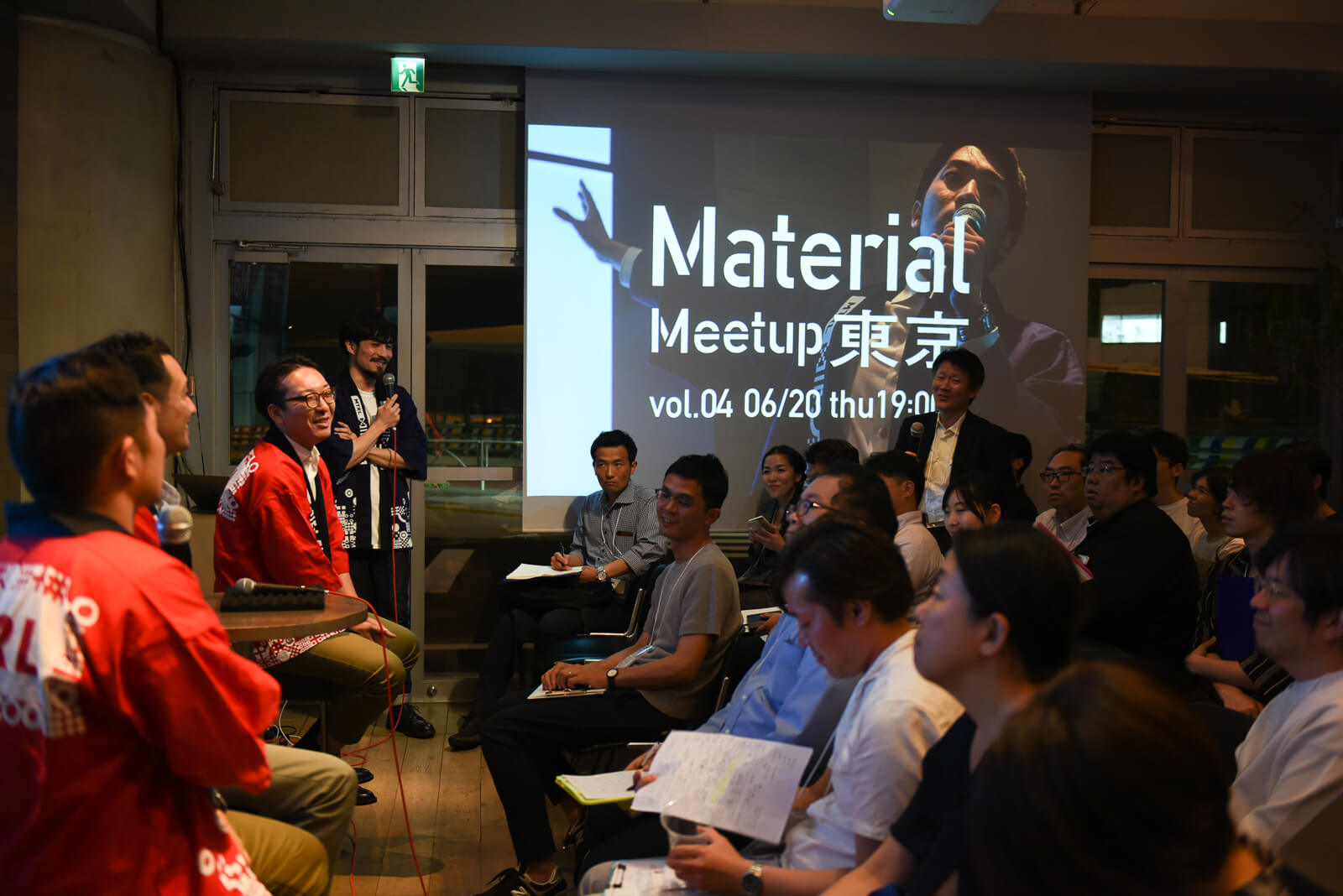 Talk Session – Looking back at Interesting Aspects of the Materials & the Hardships Encountered
A joint talk-session was held at the end with all three representatives. There were talks about the fixed ideologies of people within the companies, the positively contrasting public reaction, and how that's turned into a motivating factor for production. There were also discussions about topics such as "How do ventures like this find their 'place' in a company when they do not directly influence business performance?" among other stories unique to the companies.
In particular, the speakers this time around were all people who built these materials right from the molecules and atoms up. The extreme cases were where and how to approach the expansion of its usage horizons was highlighted a challenge while including all of the possibilities on the other hand. It can be said that one of the key things is to accept the infinite possibilities, proactively approach the people who show interest and keep building on the positives, no matter how small they may be.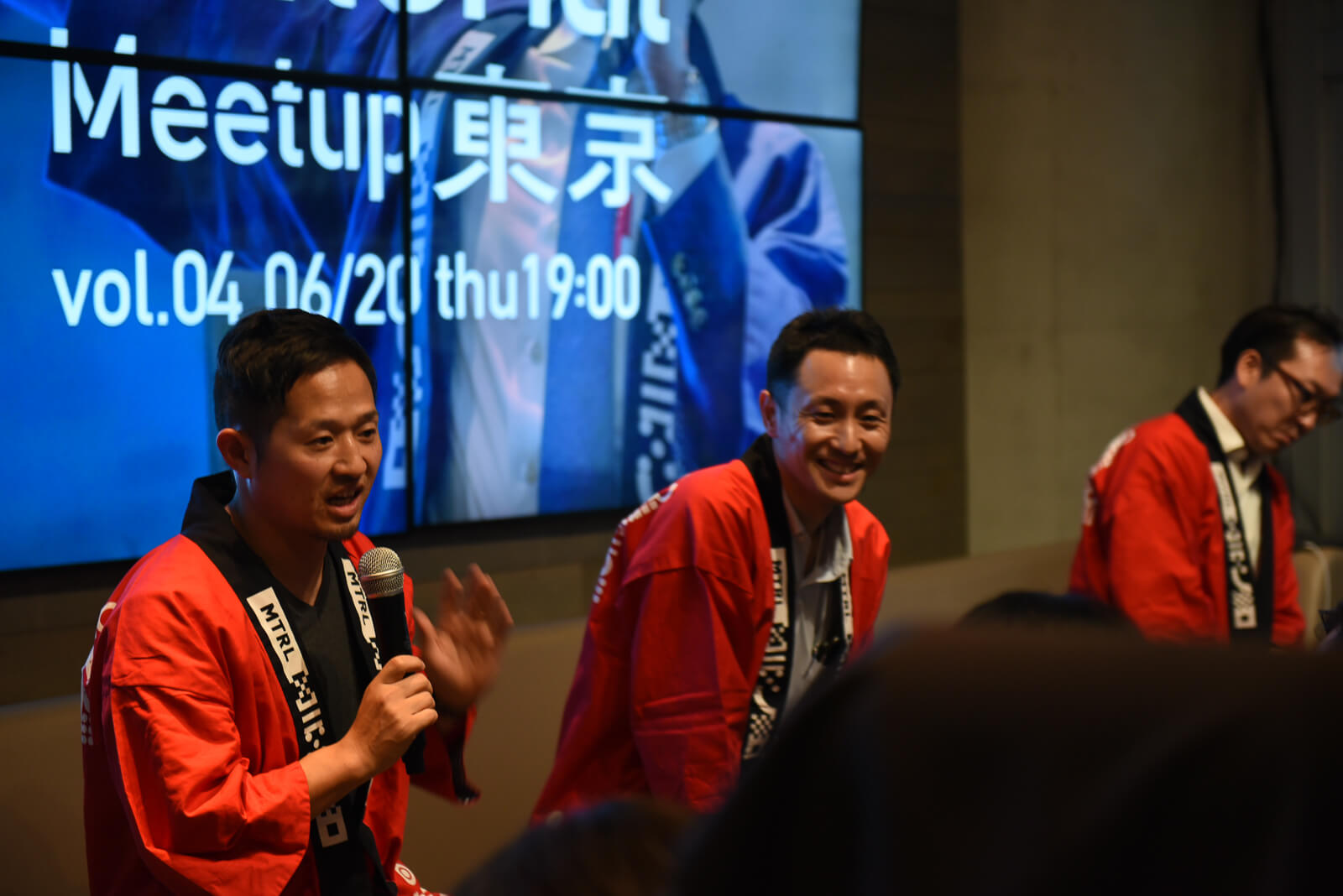 Even after the talk session had concluded, people took their time to handle the materials and listened to the representatives late into the evening.

Materials are the source of creativity; they inspire you. It is not simply about putting their raw ingredients together, just like how MOLp® expands on the possibilities of the materials that spark communication. Thanks to this session, we fully realized that it is essential to have partners who can bring such concepts to life.

Material Meetup is a periodical exhibit held at the FabCafe MTRL (Tokyo) & FabCafe Kyoto (Kyoto) venues. We will keep you updated via our website and through social media when the date for the next exhibit is announced. If you are interested in the event, we highly recommend that you participate.