REPORT:School of Fashion Futures
In August 2021, KYOTO Design Lab [D-lab] opened a summer school, "School of Fashion Futures", to practically learn how to design for a sustainable future. This is Japan's first ambitious attempt to cross-sectionally study biomaterials, algorithmic design, and circular design with fashion at its core. Here is a report on the 8-day school, which was held both offline and online.
Text by Kosuke Kinoshita [MTRL / FabCafe Kyoto]
Overview of "Circular Design" in 2021
At the beginning of the summer school, Professor Daijiro Mizuno gave a lecture on the overview of "Circular Design".
Based on previous research and practical examples of products and projects, he summarized the current situation surrounding "circular design" and presented perspectives on the roles and skillsets of players that will be required in the design field in the future.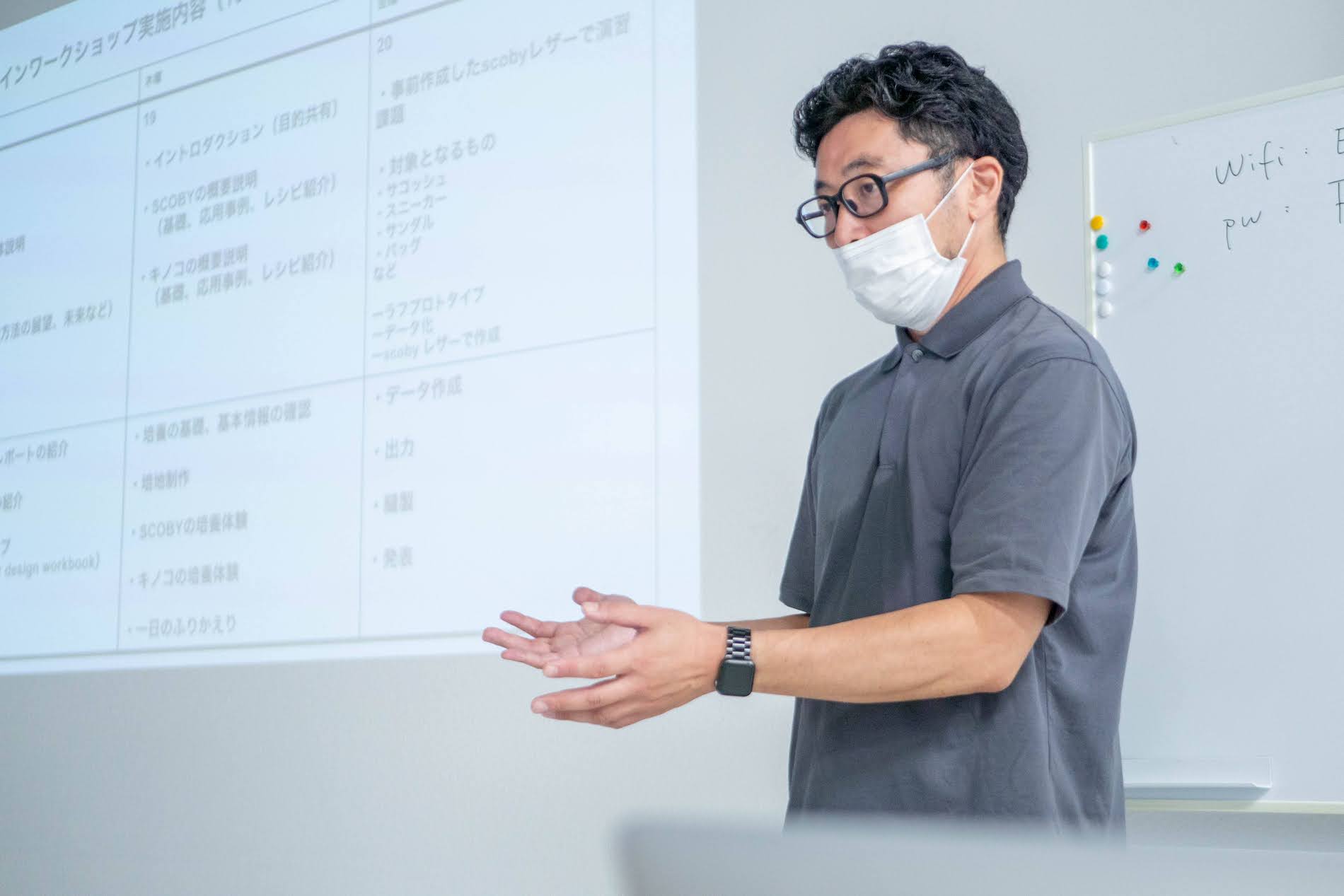 Excerpt from the lecture material. In order to design the entire product life cycle and supply chain as a cyclical system, it becomes necessary to link multiple design methodologies and to govern them in an integrated manner. In addition to the stakeholders and systems, it was also shown that the process of value creation needs to be updated. Since the subject of design is not only the design of products but also the design of services and systems, designers are required to have the knowledge and skills to handle a variety of domains across the board.
At the offline venue, group work was also conducted on prototyping circular product design using familiar products as the subject.
Bio-leather workshop (offline)
The offline workshop was held at the KYOTO Design Lab with three general participants and student members who supported the production. In the first half of the workshop, under the theme of "How to make bio-leather from mushrooms and microorganisms," participants experimented with cultivating SCOBY leather and mushroom leather, which have been attracting attention in recent years as sustainable alternatives to leather, and created prototypes of product ideas using harvested SCOBY. We will also create prototypes of product ideas using harvested SCOBY.
SCOBY is a symbiotic culture of bacteria and yeast known as "tea mushroom" or "kombucha". (*SCOBY: Abbreviation for "Symbiotic culture of bacteria and yeast")
SCOBY harvesting. Immediately after harvesting, SCOBY contains a lot of water and needs to be washed and dried. Depending on the drying process and environment, the color and texture will change.
Prototyping of product ideas using SCOBY. While confronting the characteristics of the materials, each of the participants explored approaches not only in terms of design and functionality but also from a critical perspective toward the social implementation of a "circular economy.
The bio-leather exercise was based on Kazutoshi Tsuda's [left image] research at the KYOTO Design Lab and was conducted with guest lecturer Kazuya Kawasaki (CEO, Synflux Corporation, speculative fashion designer and design researcher) [right image].
Houdini workshop(offline)
The second half of the period was focused on exercises using Houdini, a software that enables procedural 3DCG modelling and physical simulation. The introduction and utilization of algorithmic data creation methods in fashion design and circular design are expected to have the future potential not only in the design of three-dimensional modelling and patterns, and in the rationalization of manufacturing processes, but also from the perspective of "dematerialization" and "metaverse" as presented at the beginning of this course.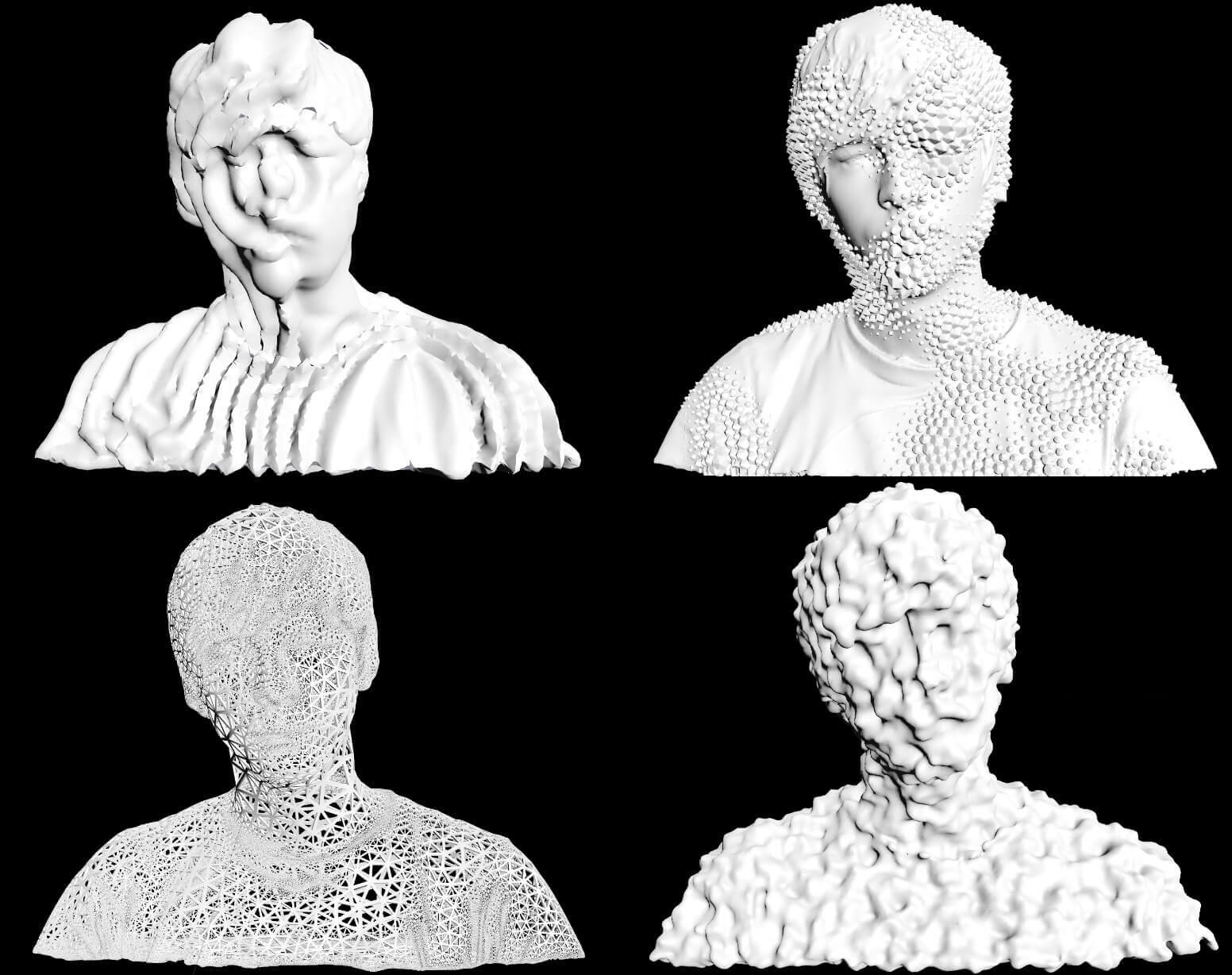 Each participant will use a high-precision 3D scanner to create 3D data of a part of their own body. This 3D model is then used as the basis for production in Houdini.
Research the subject matter that will inspire the algorithm and formulate a production concept.
Create a CG model of the wearable product. It can be designed as a dynamic object without a fixed form, and can be expressed by animation. / Production process 4) "Output by digital fabrication": Output the 3D model in actual size using a 3D printer or laser cutter. On the final day, presentations and critiques were given by each participant.
The Houdini exercise was led by guest lecturer Junichiro Horikawa, an architectural programmer/algorithmic designer from Orange Jellies [photo at left], who gave advice and answered questions as needed throughout the production process. In addition, Tomohiro Inoue of KYOTO Design Lab and student staff members were on hand to provide technical support for 3D scanning and digital fabrication.
Online lectures
In the online lectures, guest lecturers from various fields were invited to deliver presentations and Q&A sessions to take a more multifaceted and three-dimensional view of "Circular Design and Fashion Design. Taking advantage of the online format, people from all over Japan who are involved not only in fashion but also in manufacturing and design participated. Each day, discussions were held using text chat as well, and many important topics that will lead to future practice were visualized. This report introduces a small part of the discussion. (*All text below is a summary by the author.
Sustainable Fashion | Yuko Hirota (Journalist)

Topic: Future strategies and responsibilities of fashion companies
1. compliance with new regulations and guidelines: participation in international frameworks will become important
2. Visualization of initiatives: It will be important to operate with a unique strategy and transparency that is easily understood by stakeholders.
3. Scientific evidence and stories: Concrete explanations of sustainability will be required.
Speculative Fashion Design | Kazuya Kawasaki (CEO, Synflux / Speculative Fashion Designer / Design Researcher)

Topic: Speculation on the "desirable future" of fashion
1. Reintegration of agriculture and fashion industry: Expansion of agriculture and food industry into the textile industry, and collaboration with the existing textile industry
2. Algorithmic governance for optimized production: Algorithms will be introduced to the fashion industry to optimize shape, usage, functionality, efficiency, and sustainability based on all kinds of data.
3. NFT/metaverse gameplay… Accelerating the net meme of fashion on 3D platforms, new economic sphere by NFT/blockchain, and UX therein.
Mycelium and biomaterial | Mycotech Lab (Bio-based material start-up from Indonesia)

Topic: Challenges and possibilities in the industrialization of mushroom leather
1. Manufacturing efficiency: Manufacturing in a small-scale lab is not very difficult, but it is difficult to produce a "standardized product" in a factory of a certain size. (Mycotech Lab has a production capacity of 250,000 square meters.
2. Raw materials and production methods: It is necessary to find suitable agricultural wastes for growing mushrooms and to establish optimal production methods and processes.
3. Stakeholders: There is a possibility of collaborating with companies that can not only cultivate bio-leather but also post-process leather.
Algorithmic Design | Junichiro Horikawa (Leader of Orange Jellies / Architectural Programmer / Algorithmic Designer)

Topic: Practice of Algorithmic Design
1. Application: Simulation of complex phenomena and prediction of "uncertain outcomes
2. procedure… field (selection of purpose) x algorithm (selection of method) x design tool (selection of medium)
3. How to learn … Repeat trial and error. In the process, you will be able to select the best algorithms and tools.
Fab x Sustainability | Hiroya Tanaka (Professor, Faculty of Environment and Information Studies, Keio University / Director, Center for Circular Design and Digital Manufacturing, Keio University KGRI)

Topic: The Beginning of "Ring Design
1. Integrated and multidisciplinary approach: Resource recycling, decarbonization, and biodiversity are all interlinked, and attempting to address only one of them may lead to poor results. It is important to think of ways to work on multiple issues at the same time.
2. "Leap cycle": A concept of recycling that changes the form of a product into one that can be used longer than before. Since the generation of waste is inevitable in human activities, designing how to make it last longer can be an effective strategy.
3. the need for a new sense of value… There is a need to establish a culture and a sense of value in which "things that are not new" and "things that are mixed with old things" are considered beautiful.
Textile x Code | Kumiko Idaka (Independent Curator)

Topic: "Cloth" as a media
1. Ecology of knowledge: Creation through the intersection of knowledge that has been understood in the course of a life rooted in the land and knowledge newly brought from the outside world
2. The media nature of "cloth": Through "cloth," it is possible to connect the dyeing and weaving that has been accumulated over thousands of years with new materials and technologies. It can also be seen as a medium to connect humans and the environment.
3. "Beauty" as a superordinate concept: The value of "beauty" is universal, and at the same time, there may be "beauty" in things that are different from what has been considered "beautiful.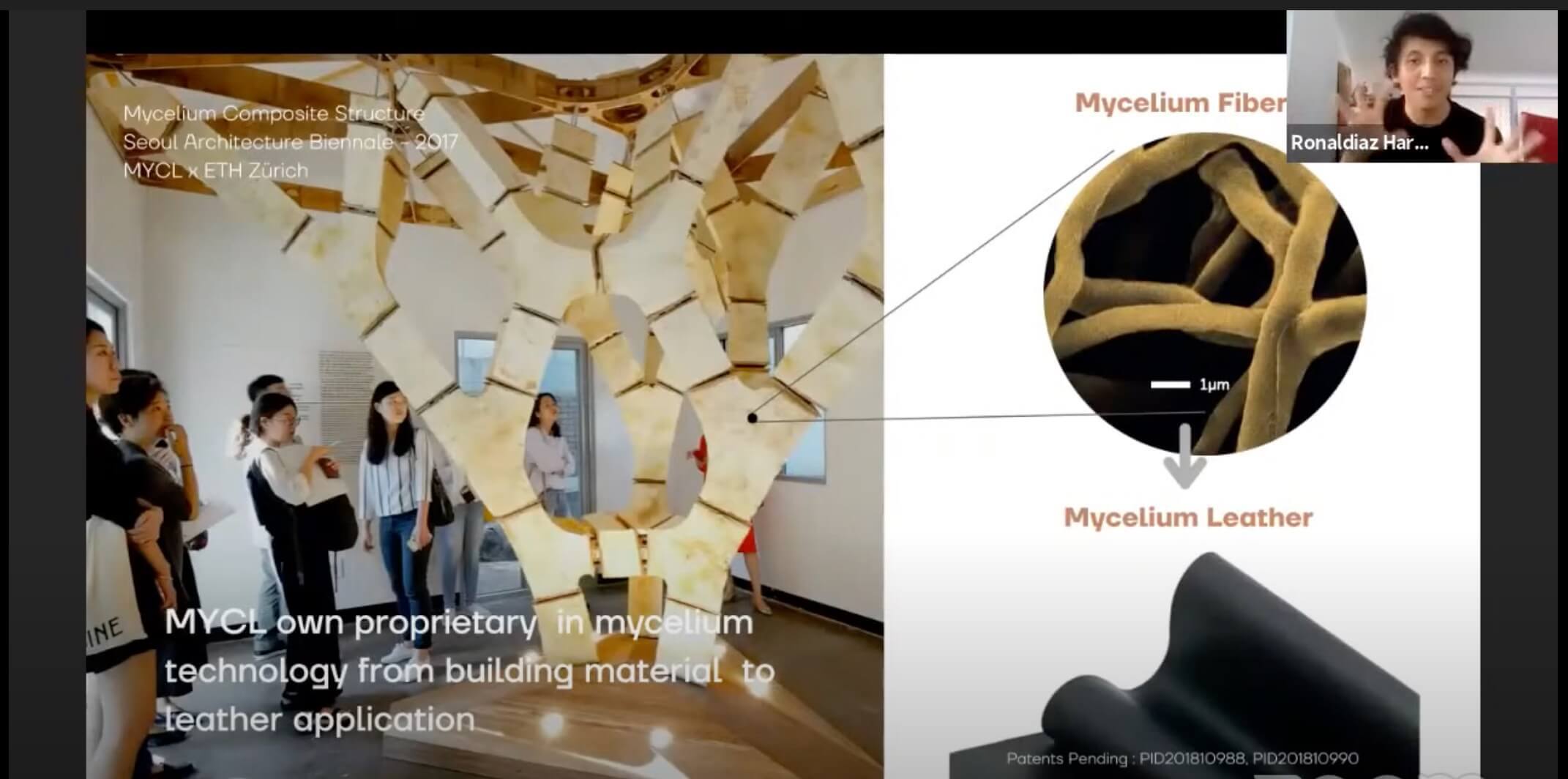 The online lecture featured guest lecturers from Japan and abroad, who gave multifaceted presentations and talks on "Fashion Industry and Circular Design" (image: Mycotech Lab CIO Ronaldiaz Hartantyo). On the last day, the students shared the offline workshop process, and Mr Mizuno and Mr Tsuda gave a summary.
Summary and Future Prospects
In the midst of the need to find a solution to the global changes in climate and industrial structure, as of the year 2021, there are almost no practical initiatives in Japan that utilize biomaterials and algorithmic design.
In order to expand the possibilities of circular design, we need to consider new tools, materials, and technologies, and try out and share approaches that few people have tried yet. I hope that the School of Fashion Futures will continue to provide such a rare opportunity.
Outline

Date & Time|August 18 (Wed.) – August 27 (Fri.), 2021 *No classes on August 21 (Sat.) and 22 (Sun.), 2021
Venue|Kyoto Institute of Technology KYOTO Design Lab and online
Number of Participants|Offline Workshop: 10 / Online Lecture: 50
Organizer|Kyoto Institute of Technology KYOTO Design Lab
Management cooperation|MTRL, FabCafe Kyoto
▼Moderators (*in no particular order, titles omitted)
Daijiro Mizuno (Specially Appointed Professor, KYOTO Design Lab, Kyoto Institute of Technology / Specially Invited Professor, Graduate School of Media and Governance, Keio University), Kazutoshi Tsuda (Lecturer, Kyoto Institute of Technology / Senior Researcher, Yamaguchi Center for Arts and Media [YCAM]), Tomohiro Inoue (KYOTO Design Lab, Kyoto Institute of Technology)
▼Guest lecturers (*in no particular order, titles omitted)
Yuko Hirota (Journalist), Kazuya Kawasaki (CEO, Synflux / Speculative Fashion Designer / Design Researcher), Mycotech Lab (Bio-based Materials Startup from Indonesia), Junichiro Horikawa (Orange Jellies / Architectural Programmer / Algorithmic Designer), Hiroya Tanaka (Professor, Faculty of Environment and Information Studies, Keio University / Director, Digital Manufacturing and Design Research Center for Emergent Circularity, Keio University KGRI), Kumiko Idaka (Independent Curator)
◎ Event details: https://www.d-lab.kit.ac.jp/events/2021/school-of-fashion-futures/