Material Meetup KYOTO vol.07 "Materials and Architecture for a Flexible Space" – Event Report
The following is a report on the "Material Meetup KYOTO vol.7," held on January 23rd, 2020.
Hello everyone! Ayumi from MTRL KYOTO here!
"Material Meetup KYOTO vol.7" was held at FabCafe Kyoto just the other day! The event was themed "Materials and
Architectures for a Flexible Space." It showcased objects that can freely transform to suit the style of communication and flow of their users; and ideas designed to surpass repeated use and durability. We explored ideas and techniques uninhibited by preexisting notions, focusing on materials that bring "A Flexible Space" to life. I present you this report on this exciting and successful event!
Event overview: Material Meetup KYOTO vol.07 (Only in Japanese)

Thoughts on What Makes "A Flexible Space" from the Viewpoints
of Design, Portability, and Materials, etc.
For this event, we welcomed four speakers from these two prospects: "Spatial Design" and "Materials"!
Discovering the Appeal of Stalls in Southeast Asia that "Design the Conditions that Breathe Life into an Area"
Our opening speaker was Takanori Shimodera. He established the architectural design workshop DAIYA after graduating from Kyoto University of the Arts Graduate School of Architecture and Landscape Studies and works as a designer & researcher of street stalls. He's field of work is not just limited to architecture design; he also engages in various projects including site construction, art projects, etc. His talk, this time around, was focused on "street stalls."
Since childhood, Shimodera has been fond of creating things. His first creation as a university student was a small hut on the campus. He says, at one point, his small hut was enjoyed as a playful hideout by children who came to visit during a program held by the university. Similar to how one would pick their hideout location, Shimodera emphasized that it is essential that one picks their location by themselves.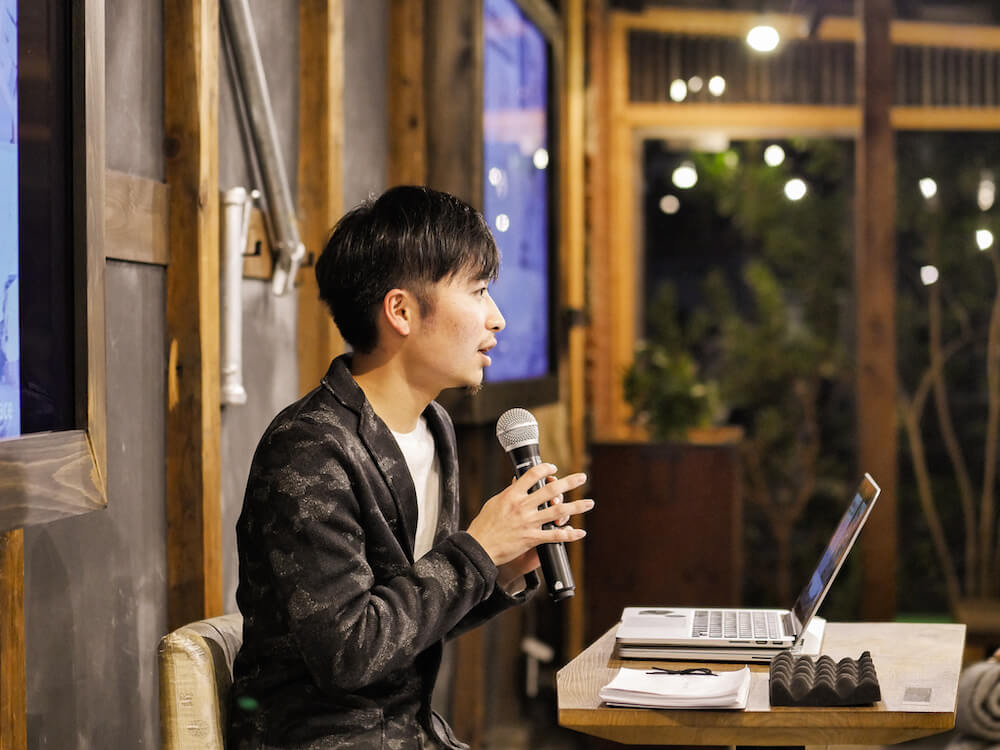 When one thinks "If only I could do such and such!" there are times when things are simply impractical, or things just don't go according to plan. Shimodera had been pondering "What exactly is it that I can do?" That's when, while visiting Southeast Asia, he caught a glimpse of the scene that guided him to his present-day endeavors.
In Southeast Asia, they have markets right next to railroads, shops set-up on the sides of walls, paintings made on top of the roads, beauty parlors out in the open, and the list goes on… There, one sees sights that one cannot see in Japan.
Shimodera saw many things as he traveled in Southeast Asia, but his focus was captivated by the street stalls. Street stalls are not seen very often in Japan, but in Southeast Asia, they are right next to one's daily life, and they support the people's
livelihoods. When Shimodera saw this lifestyle, he felt that what he can do is to design the circumstances that create "places." In Southeast Asia, stalls have a space for maintenance near them. Feeling that he would like to be able to make street stalls himself, Shimodera also underwent training at a factory that makes stalls.
Shimodera talked about how he would like to bring the concept of making communities through the medium of street stalls to Japan; a sight that seamlessly becomes a part of the people's lifestyle. The participants also chimed in with opinions such as "Street stalls can come in handy when evacuating in an emergency," and especially how the "mobility" of the stalls leads to many different possibilities.
Making the Future Portable – The Possibilities of Novel Scaffoldings
The next presentation was a duo-talk with Makoto Ono from ASNOVA Co.,Ltd. and Kazuto Kojima from Loftwork, who currently engages in producing a variety of projects for ASNOVA. The presentation focused on "portability," and the speakers talked about topics including scaffolding materials & their projects to come in the future.
The company ASNOVA, provides sales and rental of scaffolding materials used at construction sites. Among the many kinds of scaffolding that exist, ASNOVA Co.,Ltd. deals in "wedge locking scaffolding." It is a type of scaffolding that requires just one hammer to set-up. These types of scaffolding are highly efficient to use, thanks to their quick set-up, and they are just as easy to take apart.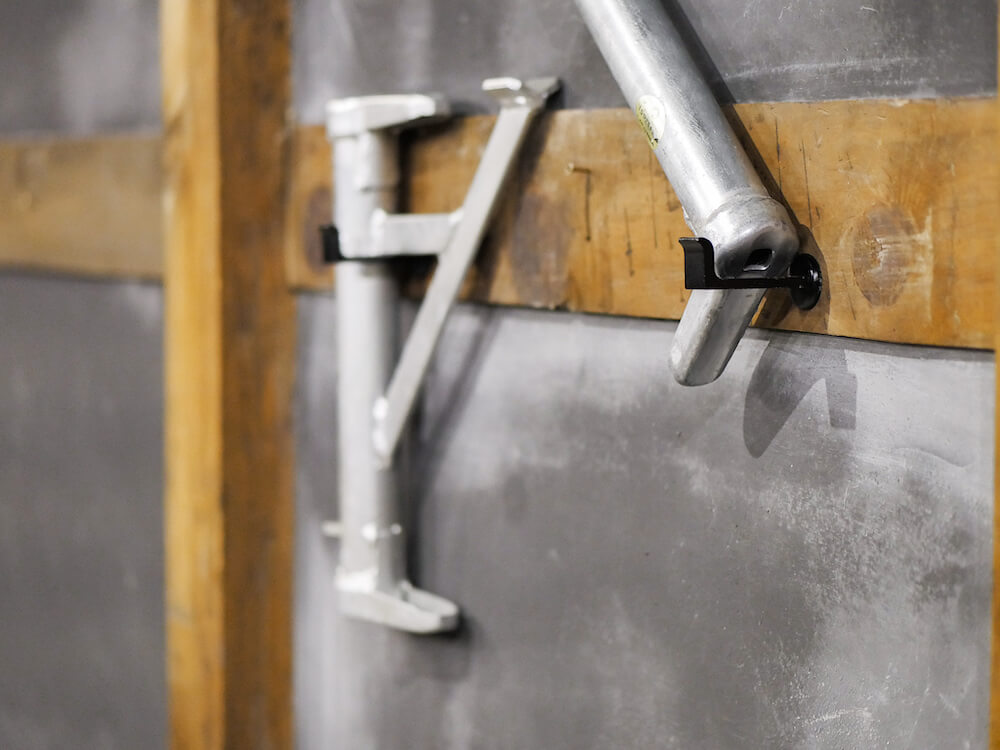 The main clients of these scaffolds are workers operating at heights. Ono worries that if the current trend continues, then there is a high likelihood that there will be a shortage of such workers in the future. And thus, inspired by the "portability" of ASNOVA's wedge lock scaffolds, he prepared an article series along with Loftwork themed "Making the Future Portable – POP UP SOCIETY." With the likes of Portability×Cosmos, Portability×Subculture, etc., they put new ideas together and ponder about their portability.
They aspire to increase the people's interest and invoke persons who may resuscitate a new pulse in the portables industry. They also practice spatial design by effectively using scaffolding materials at Loftwork Taipei in Taiwan as their stage. Since the Loftwork Taipei office is a historic building, it is hard to do any major renovations there with the many laws preventing them. But, it is possible to use scaffoldings without putting any burden on the building. Utilizing this feature, they were able to create a second-floor using scaffold materials in the building where there was none.
Inspection and experimentation also become feasible precisely due to the structure's portability. By using these features unique to scaffoldings, they are also starting new initiatives such as making buildings on top of shallows, combining them with other materials, etc.
OLTREMATERIA – Innovative Coatings that are Designable and Environment Friendly
We had Shohei Nishiguchi of Kobayashi Industry inc. talk to us about OLTREMATERIA resins and coatings. Shohei manages the one-stop service for the complete process of a finished product; from materials development, design, manufacture, installation, to set-up.
OLTREMATERIA utilizes minerals that are recycled from quartz, marble, etc., and thus helps reduce wasting natural resources. It is gentle for both the environment and for humans as it does not contain any harmful components such as epoxy resin, etc. These coatings may be applied to any surface, be it metal, timber, or glass.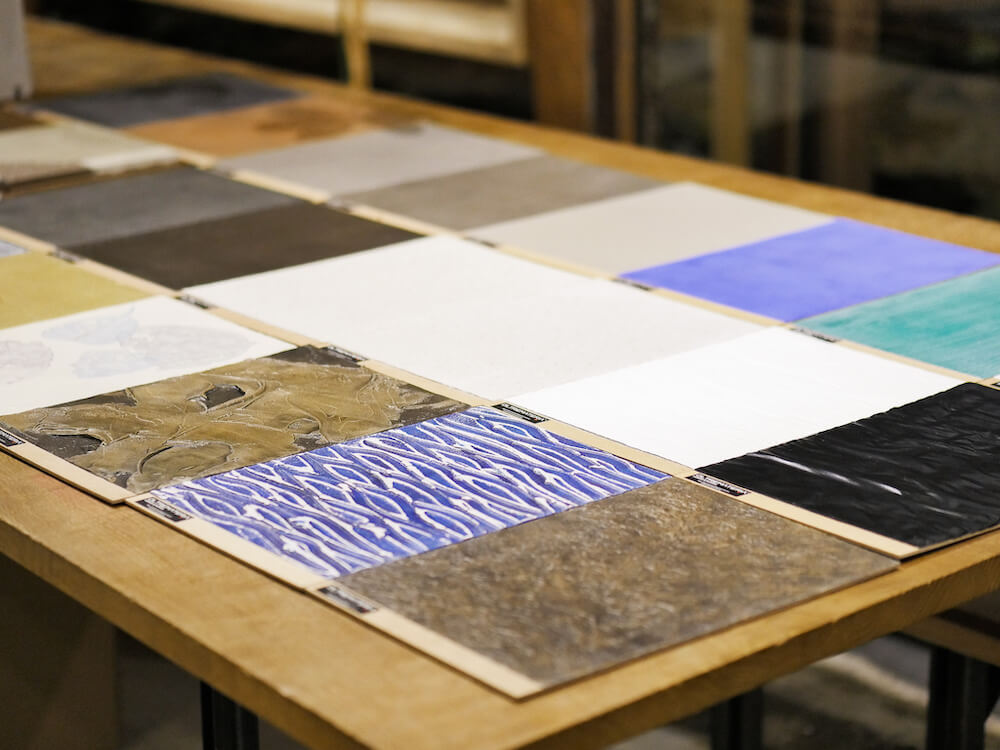 They are heat resistant, and you can apply them on curved surfaces, floors, or exterior walls. The attendees at the venue were amazed at the high elasticity and luxurious feel of the sample materials.
Stainless Steel Mesh that's Finer than Hair, With a Unique Feel
And finally, we had a presentation from Rumina Hayashi of ASADA MESH CO.,LTD.. ASADA MESH is a manufacturer of Stainless Steel Mesh. When one hears about metal meshes, one might think of a rigid wire mesh, but ASADA MESH utilizes superfine stainless steel to weave a shimmering soft to touch sheer cloth made of metal.
These cloths come in a variety of appearances depending on the type of weave and fineness of the threads. They also have
many unique functional aspects such as conductivity and fire resistance, etc. As a material, people have used Stainless Steel Meshes since 80 years ago, but they aren't often found in places where they come in contact with people; mostly used in filters on boats or in rockets, etc. "Could it be possible to utilize the feel of these materials in new ways?" Pursuing this idea, they are now promoting Stainless Steel Mesh in a variety of new avenues and circles.
Stainless Steel Mesh, first and foremost, offers complete freedom! Stainless Steel Mesh can be used in a variety of ways such as to cover the water pipes on the ceiling of exhibition halls (Air conditioning is not a problem since it's a breathable material!), or to make clothing. Furthermore, when light hits the cloth, or when it moves in the wind like a curtain, or when its shape is changed, the material exhibits different appearances.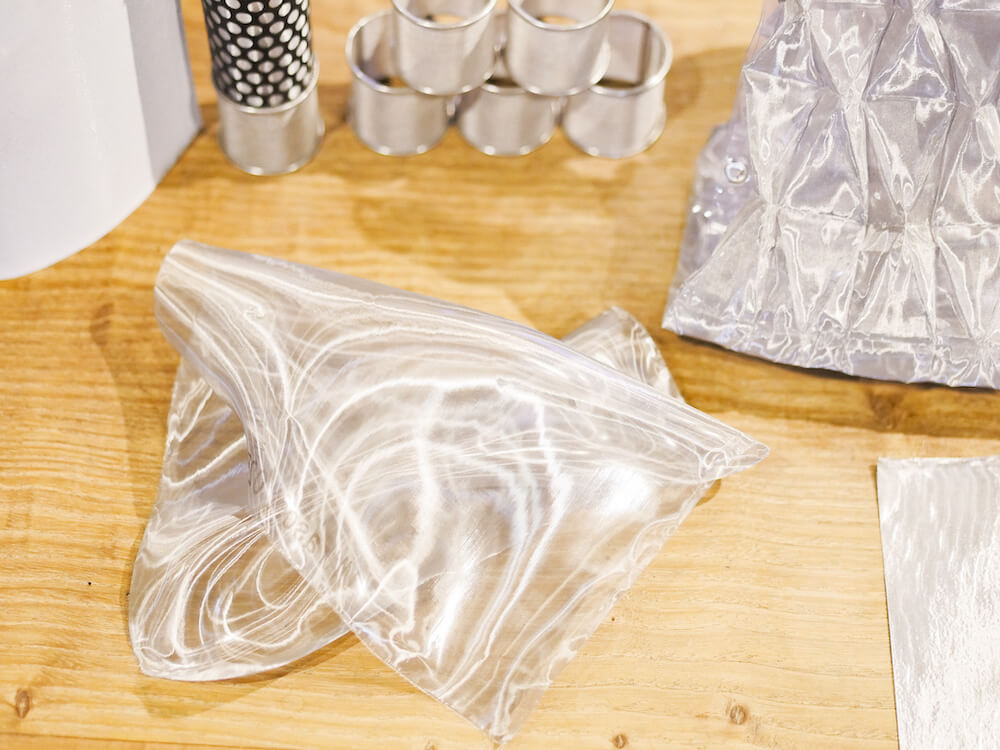 The stainless steel mesh livens up with beautiful prismatic patterns when light passes through it.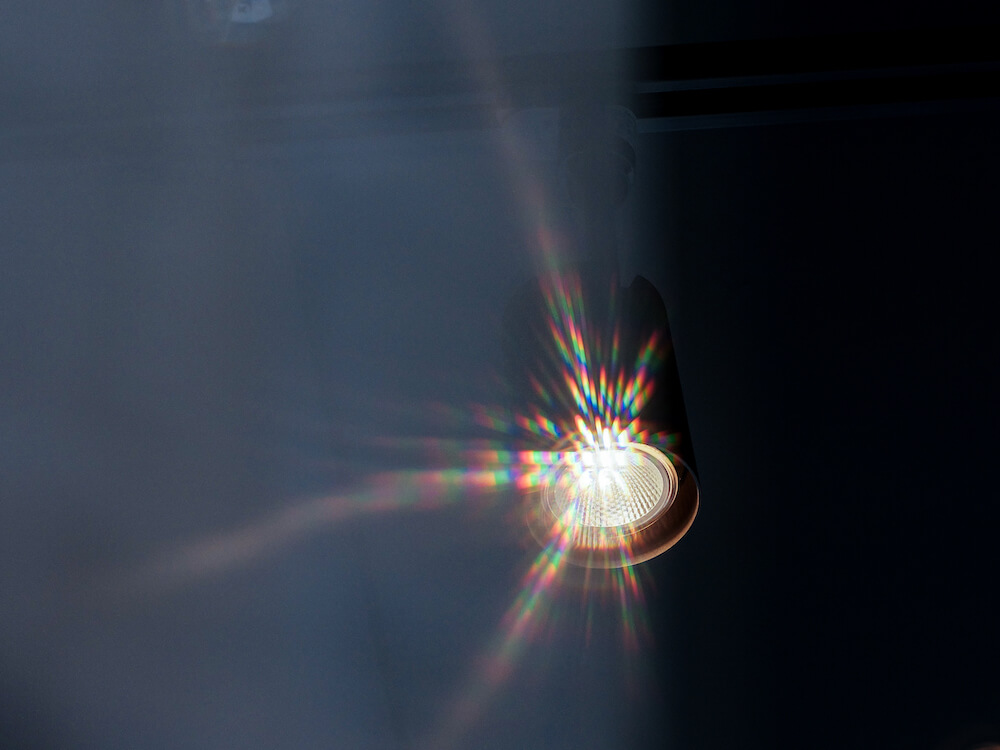 The participants bounced around ideas about the material such as: "It seems one can make a collaboration using this material and scaffolds!" Hayashi likes stainless mesh cloths so much that she also uses it as decor at her home. Her expressive and lively presentation about the stainless steel meshes was such that it made the participants want to come up with new potential usages of the material.
"Should be interesting if we blend these together!" – An Exciting Time of Networking
After the presentations had completed, the attendees engaged in a lively discussion.
Doesn't matter what material it may be; when it is combined with something new, it gives rise to a new way of looking at the material. That allows one to discover new desirable aspects and find fresh new avenues of usage. Alongside holding regular events, MTRL also conducts projects and communication planning for research and practical development of materials to create value beyond their existing frameworks and expand their possibilities. We eagerly wait to hear from your side, so please feel free to contact us.
What is Material Meetup?
Material Meetup is a gathering of manufacturers, craftsmen, and creators involved in
manufacturing with the theme of "material".
People who "develop materials" that are in search of possibilities and demands in new areas.

People who "manufacture materials" that have access to unique processing techniques.

People who "research materials" that aim for a sustainable society.


People who "design from materials" that are in search of various materials that can be used for complex designs, including with their function, texture, and designability.
From the point of view of "design and technology" and also "society and material", those types of people cross over barriers in the business world to openly interact with each other, and they are continuously creating opportunities for new projects to come into being.
By learning about the traits and charms of a material that cannot be understood merely from catalog specs, everyone thinks about new scenarios where those materials are likely to be used. With "material" at its core, this is a place where the seeds of projects and collaborations that traverse fields are repeatedly occurring simultaneously.
That is what Material Meetup is.
Ever since it began in 2018, differing themes have been prepared and continuously held at each event in Tokyo and Kyoto.
Information about previously held Material Meetup