Material Meetup Kyoto vol. 6 "Evolving dyeing techniques and materials" – Report
Hello! I'm Minami from Loftwork Kyoto. Material Meetup Kyoto was held at FabCafe Kyoto the other day!
The theme for Material Meetup Kyoto vol. 6 held on Wednesday, December 18th, 2019 was "Evolving dyeing techniques and materials".
Ever since the cave paintings of the Stone Age, dyeing techniques have continued to stick close by to us by adding color to things. At this meetup, among the large societal problems that place a burden on someone's health due to various industries and the environment, a variety of presenters gave talks about things such as cases involving efforts to develop sustainable dyeing products, the latest trends in the printing business, and more.
This is a report about the event where presenters and participants had lively interactions with each other by learning about dyes from various points of view.
Event summary: Material Meetup Kyoto vol. 6 "Evolving dyeing techniques and materials" (Japanese)
Players from various fields including dye manufacturers, textile manufacturers, fashion designers, and researchers gathered at FabCafe Kyoto!
The venue was packed on the day of the event! About 70 people came, and so many people had gathered that there weren't even enough chairs. Even before the event started, there were already some people who were feelings the materials brought in by the presenters.
At this event, people gathered together from various fields, such as dyeing manufacturers, textile manufacturers, fashion designers, researchers, people in the media, and more.
Before the event started, the participants interacted with each other, and there were a lot of people looking with keen interest at the materials. It once again felt like a lot of attention was being put on dyeing techniques.
How are sustainable dyes confronted? The night of thinking about dyes

As the three main presenters, we welcomed Kazutomo Miyamoto (Kyoto Denim), Yuji Sumi (Tsuyakin Inc. President and CEO), and Kenji Horie (Horie Orimono Inc. director, OpenFactory Inc. representative).
Additionally, with the unannounced short "lightning talk" presentation, Ryota Ishikawa (Izumi Kogyo Inc., sales division) gave a talk about dyes from various points of view.
Denim is made by making use of Kyoyuzen dyeing and "designing how it's used"
With the aim of training successors to dyeing techniques, and finding new ways to spread traditional industries throughout the world, Mr. Miyamoto founded "Kyoto Denim" in 2007 with the designer Toyoaki Kuwayama whose family has been involved in the manufacturing of kimonos since the Edo period. The denim is dyed with techniques developed from Yuzen dyeing for kimonos. In addition to denim, they deal with a wide range of things, including producing noren curtains, the production of novelty items such as things with shuin seal stamps, and also the creation of wallpaper.
The designer Toyoaki Kuwayama, while being part of a family who has made kimonos for generations, looked for a solution in wanting to spread dyeing, but in this age when Western-style clothes are mainstream, there were various hurdles to overcome, such as people not having a chance to wear kimonos, the price being too expensive, and being unable to put on a kimono by yourself.
Even if there are a lot of people who have never wore a kimono, there are almost no people who haven't worn denim. Kyoto Denim was born out of the sentiment, "If only it were as easy to wear as denim."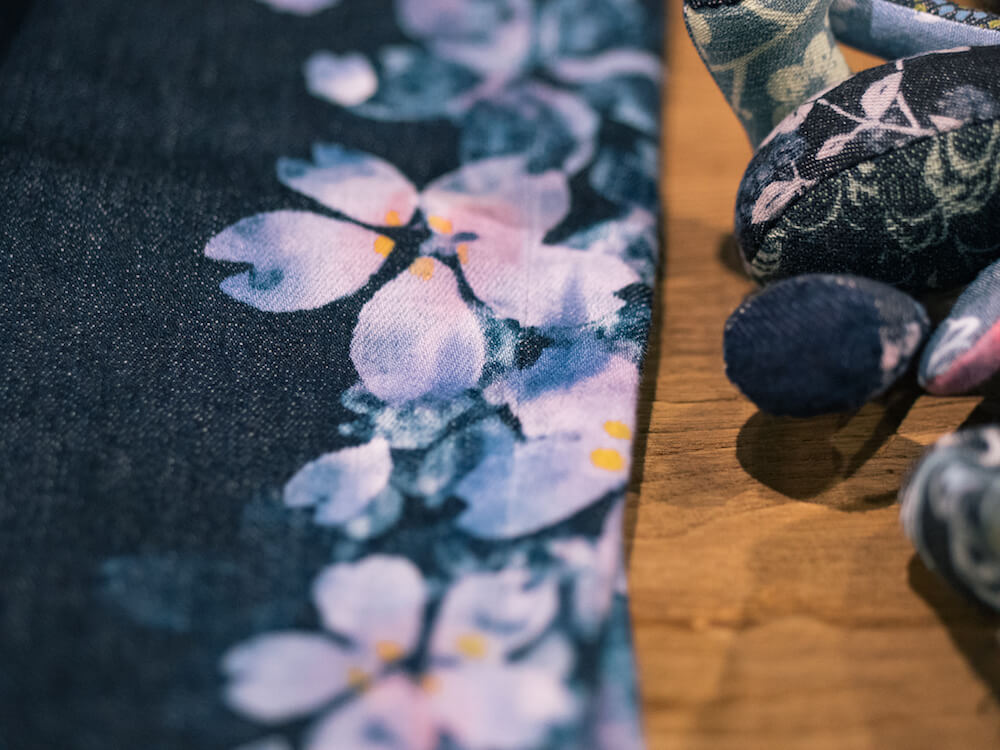 We are living in an era when there are calls to "throw out as little trash as possible," and "don't buy anything you don't need." There are various new approaches that are defined by "R" such as the the 3 Rs and the 5 Rs, but Kyoto Denim wants to propose "Refurbish" as a new "R".
Refurbish means to improve or remodel, and it has become a keyword in the culture surrounding redyeing kimonos. At Kyoto Denim, their proposal has to do with asking the question, "Would you like to add a Yuzen dyed pattern to your jeans?"
He said, "By wearing something you like and have grown fond of by repairing it, it will give you a wonderful feeling. As one method to inherit the feelings between people, what I want to inherit through dyeing will leave behind the wisdom from my predecessors in making use of dyeing for kimonos and putting it on denim."
The dye product brand "Kurakin" made from the remnants of producing food
Tsuyakin Inc. is a fabric dyeing company focused on clothing that was established 130 years ago. When dyeing fabric, it depends on the type of material, but the water temperature for the dye is raised from 60°C (140°F) to 135°C (275°F). For it to dye evenly, the material needs to soak in a large amount of water to finish dyeing, so they distinctively use an intense heat source (energy) to raise the temperature of a large amount of water. Because of that, this is an industry that produces a vast amount of carbon dioxide.
While doing dyeing work, the fact that a large amount of carbon dioxide is produced cannot be changed. As his duty as a dyeing manufacturer, Mr. Sumi has long thought about if it would be possible to take care of the environment. In 2008, the "Kurakin" brand was established for the development of "remnant dyes" because he did not want them to go to waste. "Kurakin" is embedded with the message of wanting to have more fun using dish cloths in daily life.
With remnant dyes, requests are made to food manufacturing companies for things that could produce a pigment, and various ingredients (remnants of food) are collected and utilized. A wide range of colors are produced from things such as azuki beans, chestnuts, oolong tea, parsley, wine, etc.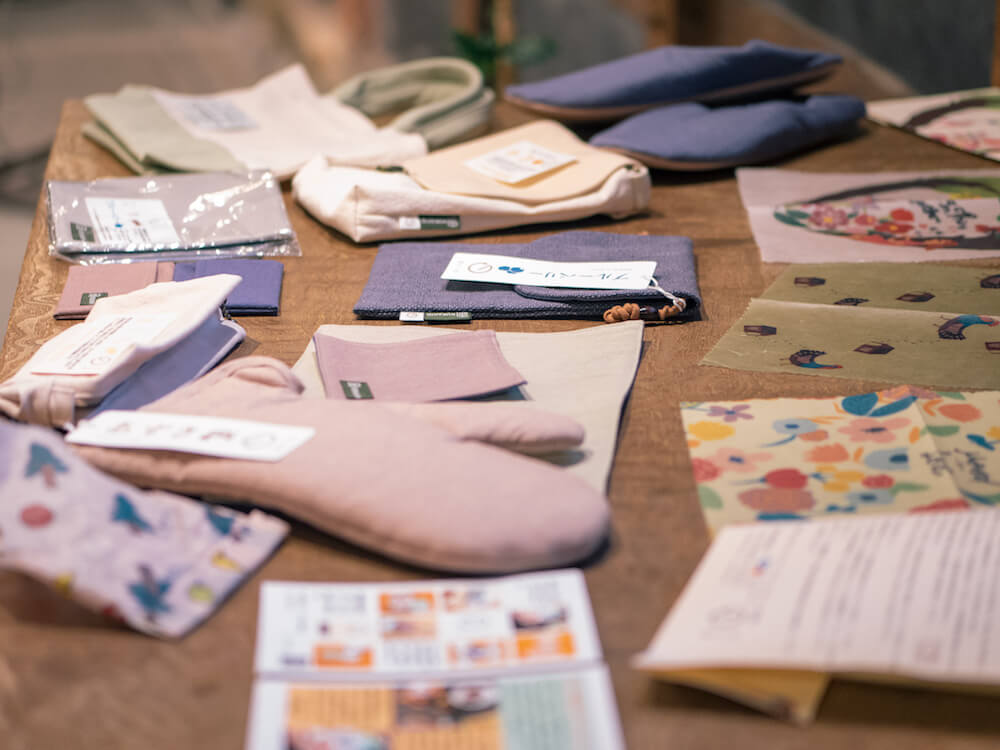 The clothing industry has major chains that mass produce clothes, and a large amount of items are left unsold. Even if unsold clothes are put on sale or sold in outlets, there are still items that are left over, so there is currently no other choice but to ultimately throw them away.
There are calls for SDGs even in the clothing industry, but Mr. Sumi feels that there is a single trend towards environmental consideration, and that there is some kind of uncomfortable feeling that surrounds it.
He talked about his feelings towards the brand, saying, "In the first place, fashion is something that people enjoy individually, so even if there is a limited amount produced or there are restrictions on color, if it's something that identifies the manufacturer, wouldn't that produce a value system of trying to use something for as long as possible instead of just throwing it away? These are the sorts of items we produce with those sorts of hopes in mind."
Digital textiles and market tendencies
Mr. Horie's presentation started with him saying, "Play rock, paper, scissors with me, and I'll give three people who win a calendar for next year!"
At Horie Orimoto Inc. that does dyeing for fabrics such as polyester, Mr. Horie conducts the manufacturing of digital textiles. He also manages the digital textile market HappyFabric that makes it possible to make, buy, and sell original textiles starting from 1 meter long.
Mr. Horie said, "The common language used online and in the factory is different." There is a tendency to think about hurdles that cannot be overcome in the factory, and there is a tendency to think that the Internet has the mechanism to make buying something easy.
Within that, while focusing on how to maintain its quality, he is working in pursuit of the sentiment, "Things that couldn't be done up to now can be done digitally."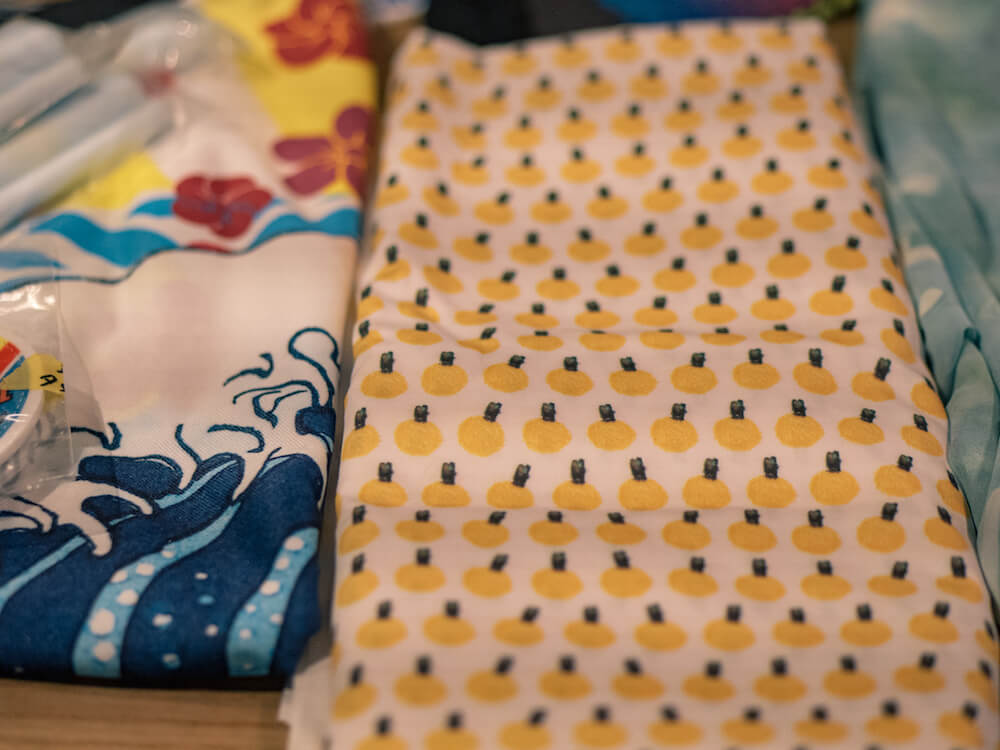 The potentiality of digital content has a wide range of applications, including the commercialization of art from people in welfare facilities, the development of products from board game creators, and digital textiles for caskets used by the funeral service industry.
At HappyFabric, there are apparently a lot of people who want to use pigmented printing for cotton, but since it is difficult to maintain the quality of the finished product, Mr. Horie was not that enthusiastic about it in the beginning. By temporarily trying it out as a two week service and prioritizing user demands over the printed quality desired from the usual products, there was a sudden rise in his degree of satisfaction.
He talked from his own personal experiences, saying, "Up to now, I thought that this wouldn't work, so by temporarily conveying a drawback to the users, I was wondering what kind of reaction it would get. And that is when I was able to see new possibilities."
Lightning talk: The world of lamé thread used for piece dyed textiles
The lightning talk was done by Izumi Kogyo Inc.'s Mr. Ishikawa, who also talked at "Material Meetup Kyoto vol. 5" held on November 22nd, 2019.

He gave a detailed explanation of lamé thread, special, stringlike thread made by finely slitting the film of a synthetic fiber.
For Lamé thread, there is both "yarn dyed lamé thread" and "piece dyed lamé thread", but both threads look almost identical. However, by piece dyeing lamé thread that has been yarn dyed, a chemical change takes place, causing the glimmer and feel of the lamé thread to be lost, turning it transparent. On the other hand, by piece dyeing lamé thread that has already been piece dyed, its unique structure means that it will not degenerate even if it's piece dyed.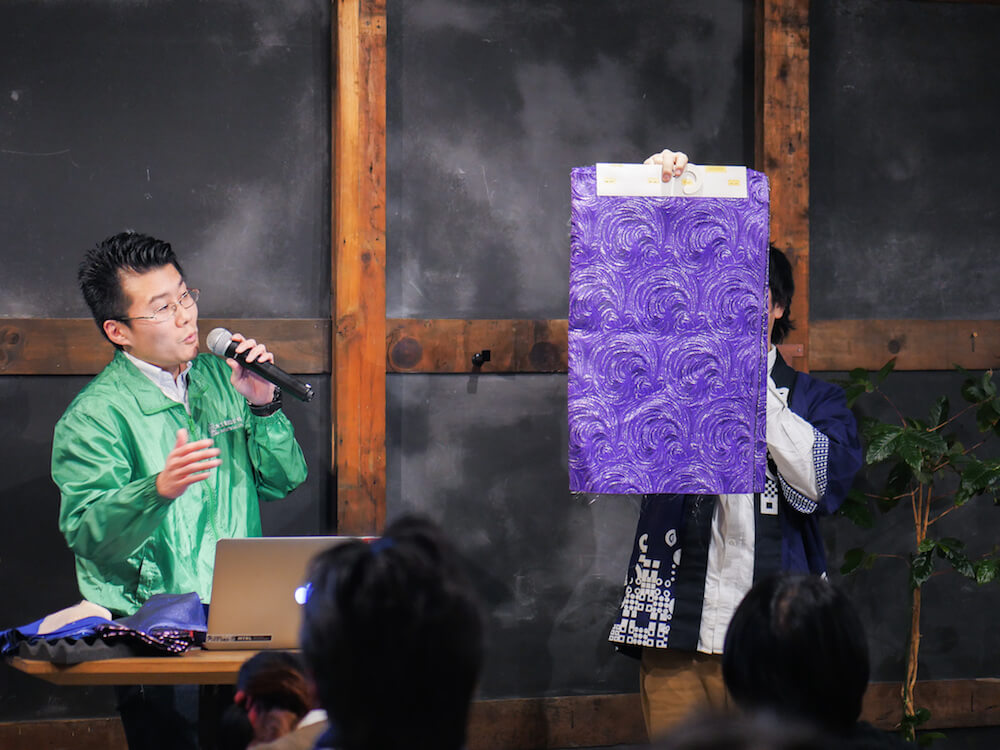 He talked about new possibilities and the world of lamé thread to participants usually involved in dyed products, and he said, "If there is anyone who is having trouble with lamé thread…! Or if you want to start using lamé thread, just contact me!" 
Networking time where various interactions took place
After the presentations, there was lively interaction between the attendees, and also with the presenters.
It feels like new items will be born out of this…! I'm looking forward to what will happen in the future.
What is Material Meetup?
Material Meetup is a gathering of manufacturers, craftsmen, and creators involved in manufacturing with the theme of "material".
People who "develop materials" that are in search of possibilities and demands in new areas.
People who "manufacture materials" that have access to unique processing techniques.
People who "research materials" that aim for a sustainable society.
People who "design from materials" that are in search of various materials that can be used for complex designs, including with their function, texture, and designability.
From the point of view of "design and technology" and also "society and material", those types of people cross over barriers in the business world to openly interact with each other, and they are continuously creating opportunities for new projects to come into being.
By learning about the traits and charms of a material that cannot be understood merely from catalog specs, everyone thinks about new scenarios where those materials are likely to be used. With "material" at its core, this is a place where the seeds of projects and collaborations that traverse fields are repeatedly occurring simultaneously. That is what Material Meetup is.
Ever since it began in 2018, differing themes have been prepared and continuously held at each event in Tokyo and Kyoto.
> Information about previously held Material Meetups