Material Meetup TOKYO vol.6 "Advanced Materials and Design" – Report
On October 30th, 2019, the theme for Material Meetup vol. 6 held at FabCafe Tokyo was "Advanced materials and design." Behind the ever-evolving technology is the existence of innovative materials. We focused on high-performance, high-functionality advanced materials that can not only be used for industrial purposes but also change our lives, and envisioned a future created by materials.
The organizer of this event is Kazuya Yanagihara, MTRL director of Loftwork Inc. He is also a member of Loftwork's tactile experience design "HAPTIC DESIGN PROJECT", which he has been working on since 2016. In addition, he also conducts a manufacturing project called "GADARA" in private.
At the event, interesting considerations regarding the potential of advanced materials, including not only the materials themselves but also the evolution of processing technologies such as 3D printers, were developed.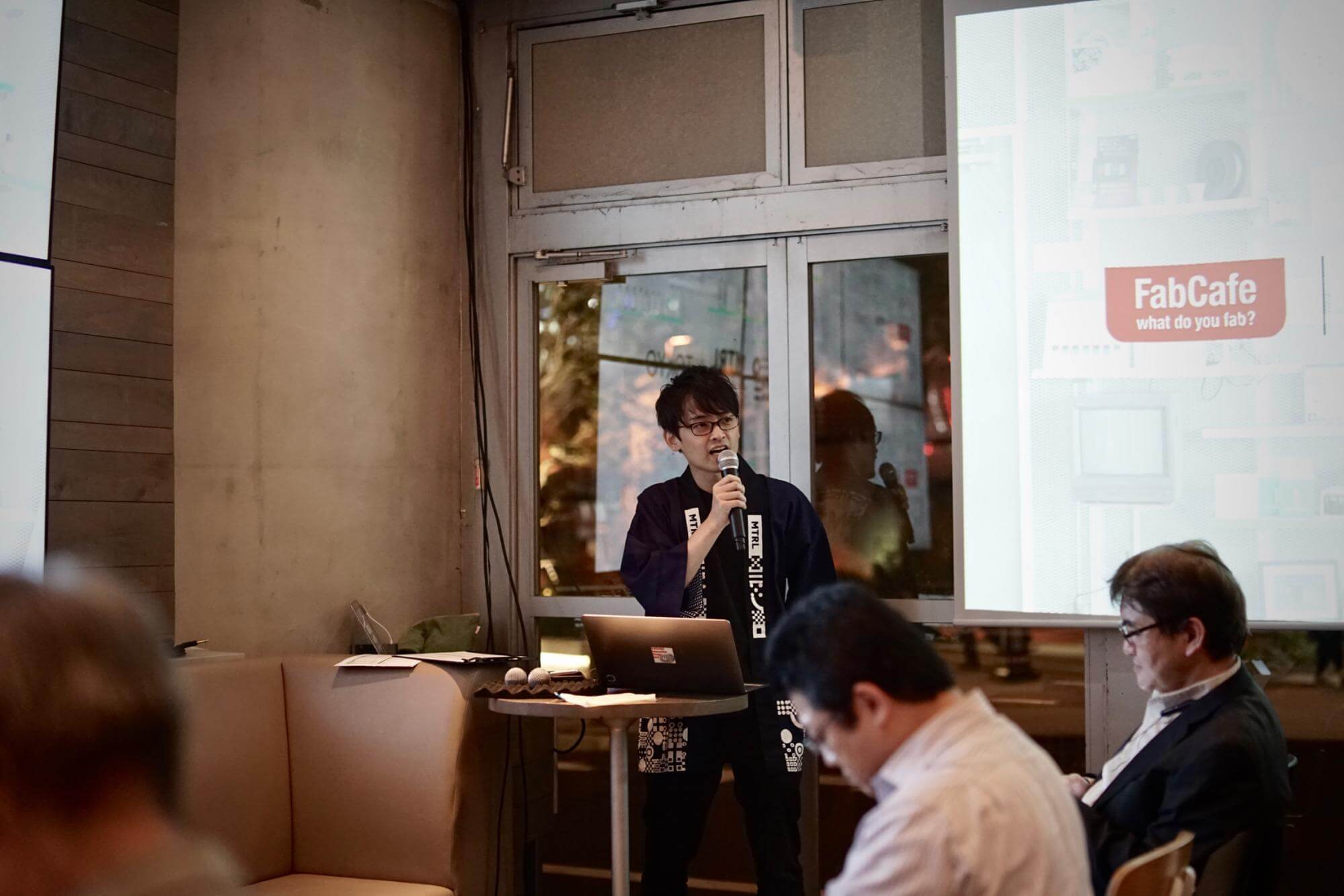 "Haptic Design with tactile material and systemization" by Nobuhisa Hanamitsu
First, Nobuhisa Hanamitsu from Enhance, inc. showed us the "current state" of tactile research. As typified by the case of the surgical assistance robot "Da Vinci", discussions on practicality tend to precede tactile research. However, Hanamitsu proposes, "Can we make something more expressive?" This is where the challenge of interactive work, "Evoking the physical experience from tactile experience like getting a hug" began.
Experiencers themselves remain seated in a chair with two speakers and 44 vibrating elements, close their eyes and experience a 7-8 minute program by evala (See by Your Ears). The whole body is wrapped in sound, light, and vibration, and you can experience the body as one united with sound.
In announcing this experience program, Mr. Hanamitsu and his colleagues created a device that reproduces a pleasant tactile sensation and a library that expresses a pleasant tactile sensation. Just as sound libraries exist in the world of sound art such as music, the idea was that design libraries were needed for tactile sensations. They created a library of tactile sensations by combining multiple parameters like a sound equalizer, referring to onomatopoeia such as "tsurutsuru" and "zarazara".
The element is the part that transmits the tactile sensation, that is, the part that touches the speaker. Body movement and tactile sensation are closely linked. "We aimed to be able to provide a tactile sensation at the moment of contact," said Mr. Hanamitsu.
As a result of these efforts, many people involved in the program said that "a scene from the past came to mind", proving the hypothesis that "the tactile experience can evoke physical experience".
There are still few examples in the world of tactile expression, and Mr. Hanamitsu says, "I do not think this is the solution." But this first step may trigger discussions that extend the potential of tactile sense and the future.
"Realizing a society where the functions of things can be freely designed" by Taisuke Ohshima
Meanwhile, Nature Architects, headed by Taisuke Oshima, is trying to bring about a change in the process of "making". Although 3D printers have attracted attention as a driving force in the future of manufacturing, Mr. Oshima asserts that "the perspective of tools for individuals and for prototypes is old." It is said that the latest 3D printers have improved accuracy in both quality and speed, and that evolution toward mass production has begun in Japan and overseas.
But why aren't 3D printers used in corporate products? Because there is no software that can easily design complex products. Therefore, Nature Architects, led by Mr. Oshima, is developing a design technology called "Direct Functional Modeling (DFM)". By simply entering the desired functional requirements such as softness, movement, and variation, you can directly model and output even complex mechanisms such as human hands and arms. This eliminates the trial-and-error process of designing with CAD and simulating with CAE (Computer Aided Engineering: Simulation and analysis using prototypes on a computer).
Their theme is "Additive Manufacturing". From the material phase, we support the development of very comfortable seats for cars and designs that can cut the assembly process for mass production. New technologies that will overturn the common sense of the manufacturing industry are likely to attract more attention in the future.
Impact resistant output by 3D printer
"Possibility in body expansion with robot tail「Arque」" by Junichi Nabeshima
Junichi Nabeshima, a graduate student at Keio University's Graduate School of Media Design, is developing an auxiliary robot "Arque" for balancing with the inspiration of the monkey's tail. He introduces the theme, "Can humans, who have lost their organs and tails in the process of evolution, return to their origins in the future through technology?"
Although the tail plays various roles in the natural world, such as expressing emotions and as a third hand, "Arque" focuses on the function of maintaining physical balance. It was announced as a device to protect yourself from falls and injury.  
The tail is moved by inflating the tube that passes through the center of the model imitating the spine with air, and expanding and contracting the artificial muscle. By detecting the tilt of the body with a sensor, the tail swings to the left when tilted to the right, and the tail rises when leaning forward to compensate for the balance. The skeleton has a more practical design with reference to the tail of the seahorse, which has cushioning properties and is resistant to twisting.
As soon as this product was announced, it became a topic not only in Japan but also overseas. However, Mr. Nabeshima is active in research, stating, "I still need improvement, such as establishing a method of maintaining body balance and adhesion to the body." Next, he talked about tactile feedback to the whole body. Expectations are growing for its potential as a device for applications such as underwater and space, which are difficult to balance.
At the end, a cross talk with three speakers was held. Opinions were exchanged while touching on each other's presentations, citing common points such as using 3D printers for research and business and gaining notice from the process of studying body parts.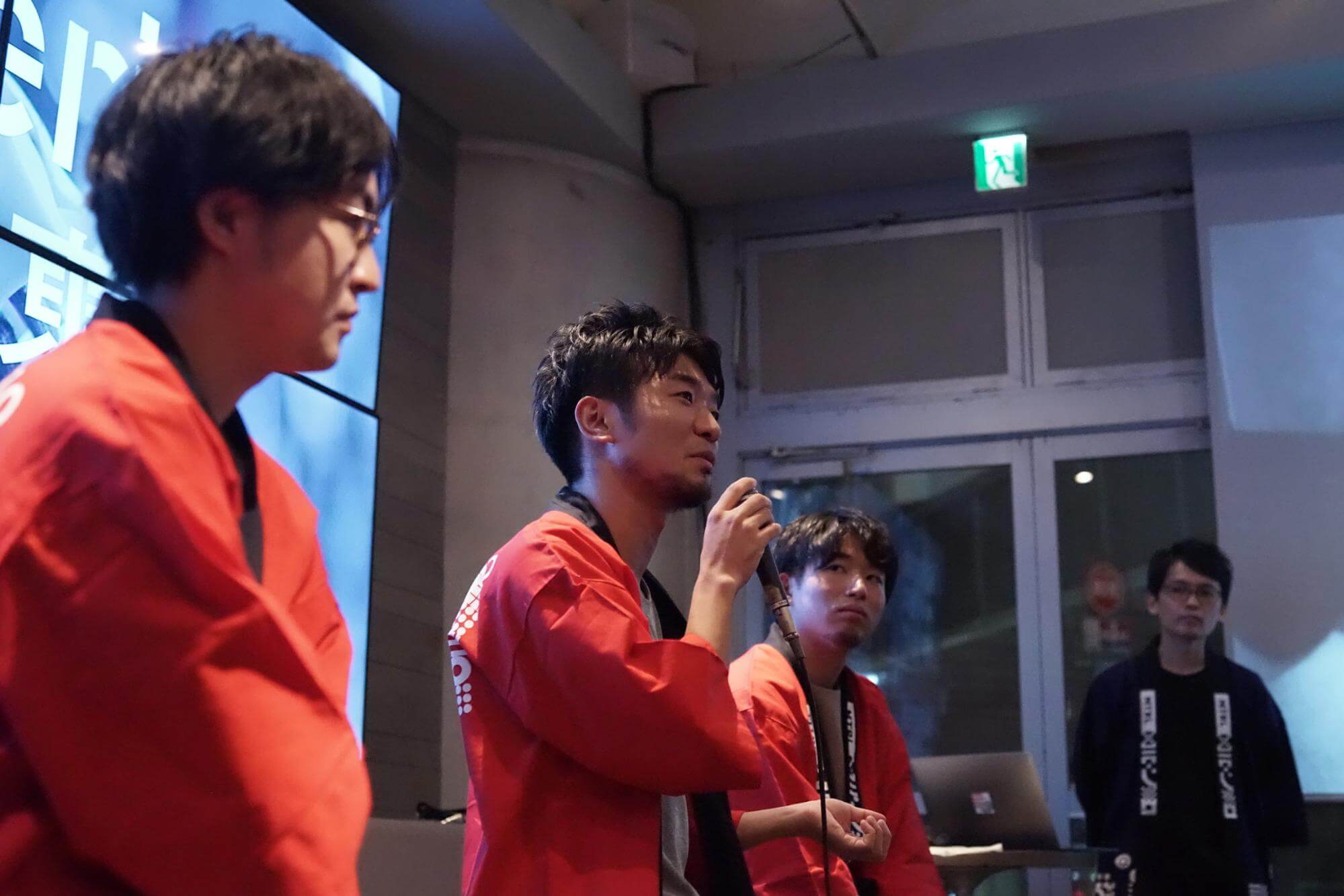 In today's world, where the evolution of medical technology and the efficiency of manufacturing sites are required, the development of advanced materials and technological innovation are indispensable. The keyword "expansion of the body," which now sounds far from today, will be closer to the not-so-distant future. I will continue to pay attention to new materials that support new technologies.
Material Meetups are now being held at FabCafe MTRL (Tokyo) and FabCafe Kyoto (Kyoto). We will inform you on the MTRL website and SNS as soon as the schedule is decided, so if you are interested please join us.
Past Material Meetup report: https://mtrl.com/projects/material-meetup/