Material Meetup TOKYO vol.05 "Crafts and the Beauty of Japan" – Report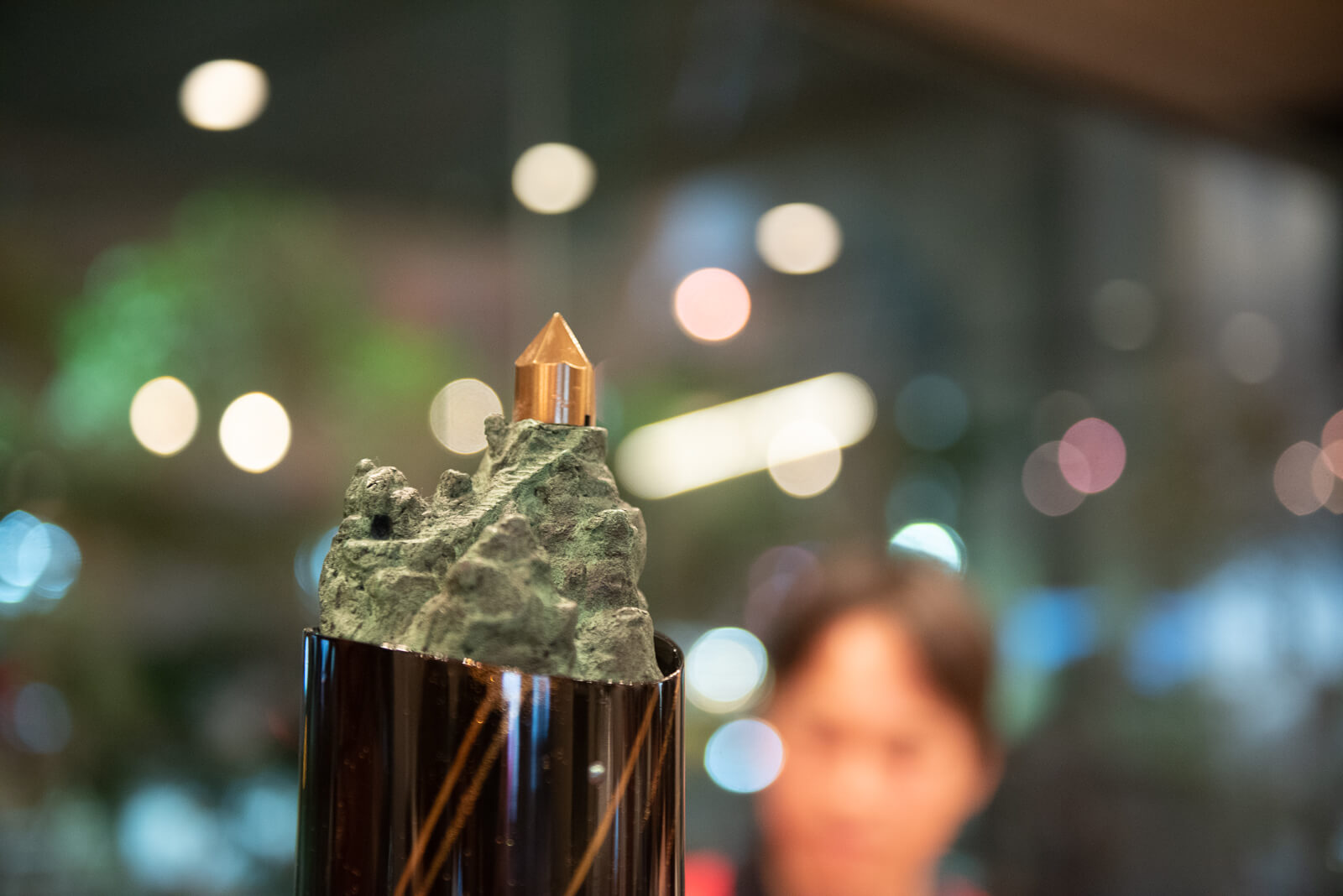 On August 7th, 2019, "Material Meetup TOKYO vol.05" was held with a theme of "crafts and the beauty of Japan." Japan's traditional crafts have depth and appeal, but the places where they play an active role are decreasing year by year. We were able to hear about the appeal of Japanese crafts and their future from those who practice those crafts and think about how crafts fit into today's society.
Event information: https://mtrl.com/tokyo/event/material-meetup-tokyo-vol-5/
Work that can only be done by hand and work that can only be done by machine
Secca challenges modern craftsmanship in Kanazawa, a town of traditional crafts
Secca Inc. in Kanazawa City, Ishikawa Prefecture is a group of creators, half of whose members are designers, half of whose members are craftsmen. They place themselves as "Innovative Artisans" rather than as designers or craftsmen, and they aim to continually revolutionize the value of crafts, using crafts to evolve people's experiences.
The sense of values rooted in the land of Kanazawa is often expressed with the words "tradition is a series of innovations." Although it is a place that collects those skilled in a variety of traditional crafts, those artisans continue to strive from day to day to update things from a modern perspective without remaining fixated on the past. Mr. Uemachi, a member of Secca, says, "We are able to do crafts because we have the climate of Kanazawa and the support of those around us."
Their greatest distinguishing feature is the use of digital fabrication tools to develop their products. Although mechanization is often spoken of as a way to improve labor efficiency, their introduction of digital techniques allows them to achieve crafts their predecessors could never have accomplished. They combine the merits of handicrafts with digital merits to make crafts that are only possible in the modern age.
"There is work that can only be done by hand and there is work that can only be done by machine. As long as people see us as using digital means to make our work easier, we still have a long way to go [laughs]." (Mr. Uemachi)
Secca also aims to use crafts to solve the problems of society. For example, plastic, which is a topic of marine pollution. Though they may come across sounding like villains, they thought, "Plastic itself isn't a bad material, it's just that the act of throwing it away and the system that makes it a thing that needs to be thrown away that are bad." That is why, using a new resin component that will not break even when run over by a car, they are beginning to develop tableware that can be used a long time without being thrown away.
Mr. Uemachi concluded Secca's presentation by saying, "There is a responsibility that naturally occurs in making something. I want the things we make to be able to be used for a long time."
New construction created using wood processing technology and traditional crafts
A university summer camp regenerates the area's resources
An attempt to rethink traditional Japanese crafts from a modern perspective is also being made at FabCafe Tokyo. Let's introduce a project created through the planning and support of a summer camp program of the State University of New York at Buffalo.
Bamboo basket weaving is a craft passed down in Japan. One type of such weaving, "mutsume-ami," which consists of gathering the bamboo into a hexagonal pattern, is an orthodox weaving method that makes a bamboo basket strong by adding a slanted weave to a vertical-horizontal weave pattern.
The demand for bamboo baskets decreases year by year, but can't we make new crafts using this technique? A question from FabCafe Hida in Hida City, Gifu Prefecture became the theme of this summer camp.
The problem in Hida City, where over 90% of the total area is occupied by forest, is that over half of the forest consists of broadleaf trees rather than the conifers that are in high demand as building materials. Since it is difficult to cut straight wood from broadleaf trees, it is difficult to use them as building materials. "How can we make use of broadleaf trees?" is another question FabCafe Hida is trying to answer.
The summer camp members visited Hida City and, through the introduction of FabCafe Hida, built up their input by visiting the forests and lumbermills and by learning the intricate techniques of the woodworking artisans. Among those they met was Ibata Interior Co., Ltd., a manufacturer of wooden furniture in Hida.
Ibata Interior Co.,Ltd. has "compressed bentwood" technology which creates an artificial bend in wood by adding pressure and high-frequency heating to steamed wood. Compressed bentwood is used in the armrests and backs of chairs, but it is also technology which seeks better application in terms of balance of cost and production efficiency.
The summer camp team proposes to apply the basket weaving technique to construction by implementing the compression bentwood technology in the lumber from broadleaf trees. If, in applying to lumber a technique that has so far only been used with bamboo, we are able to find a clear use of broadleaf trees rather than just coniferous trees, our possibilities will expand greatly.
Through repeated experimentation, they were able to discover that hardened bentwood also has the peculiarity that its processing comes undone when it gets wet from the rain. Research will continue, including research into waterproofing.
What do crafts represent from here on? Creators and artisans discuss the current place of crafts
In addition to those who strive to create products, creators and artisans who create works that make use of crafts also took the stage. We were able to hear about the appeal of crafts from different perspectives.
Keisuke Sano, who studies lacquer arts at Tokyo University of the Arts, places the current period, in which there is a stable living environment and all necessary items are readily available, as the "Post 'Substance' Period," analyzing it as a period in which value is found in intangible items.
Mr. Sano proposes that, although crafts have temporarily converged in an age of mass production, "since it's an era in which value is found in stories and sympathy, isn't it the time to reconsider the value of crafts?" Because of the impressiveness of crafts created using techniques honed from years of training and study, they may be the added value that is sought in modern society.
However, the opportunities to experience crafts have decreased remarkably in modern times. The first step of getting to know the appeal of crafts is by habitually introducing them into your daily life, and, "I'd definitely like you to try using lacquered chopsticks," Sano requested.
Tsuyoshi Ueda, who handles metalwork through casting and coloring, also took the stage.The coloration of metal, which involves the creation of colors through complex chemical reactions, does not have the any techniques that allow the creator to manipulate the work in a reliable manner. There is extremely low reproducibility, so, even if you try to make a similar piece, it definitely won't be easy.
To begin with, when it comes to nature, pure metals like iron and copper are extremely unnatural substances that try to return to substances that exist in nature, such as iron oxide and copper sulfide. "Try to return" is an expression that suggests that the materials have a consciousness of their own, but Mr. Ueda strives to create works while enjoying the "consciousness" of these materials. An artist may consider the distortions and holes that "unconsciously" occur in a work to be mistakes or flavor. When thought of as flavor, it creates a dialogue with the "consciousness" of the material.
Mr. Ueda participated in the "Kogei Hackathon" through the International Hokuriku Kogei Summit held in Toyama Prefecture in 2017 in an attempt to create new crafts with people possessing digital technology. He takes on interesting challenges that switch between crafts and the digital world, such as capturing the accidental coloring of metal (that is to say, the unconsciousness of the creator) as data and changing it into a line drawing, then carving it into a robot arm and incorporating it into the design. It was a presentation that raises the expectations for future works.
Finally, all the presenters came together for crosstalk. The keywords that consistently appeared in each of the four speakers' presentations were "digital" and "analog." In response to the question, "Where do those differ?" in addition to defining "digital" as having a computer perform a series of work, Mr. Sano replied that, "since humans are the ones to construct the program, analog and digital may be on the same line." In agreement with that, Mr. Uemachi looked back on his own activities, saying, "When we talk of using CAD, it gives the impression that it's far distant from handcrafted items, but there are things that can only be created with the sense of a creator and the experienced technique of an individual."
Then, in response to the question, "How should crafts be in the future?" Mr. Ueda warned, "We should take in the current situation of crafts not being widespread in everyday life and think about how to better convey their appeal." On the other hand, Mr. Uemachi proposed the coexistence and compartmentalization of technology and crafts, saying, "Right now, we need a sense of how to use technology. Technology should be used in order to improve precision, matching those who seek value with those who provide it. Crafts should be handed down carefully while changing value and stories into something tangible. That is their natural form."
Crafts are purely traditional and must not use the power of computers. We think there is a clause that takes such for granted. As shown in the words "tradition is a series of innovations," by appropriately introducing valid technology and updating both quality and value, a craft will take root in the soil and be passed down to future generations. This meetup allowed us to reconfirm this.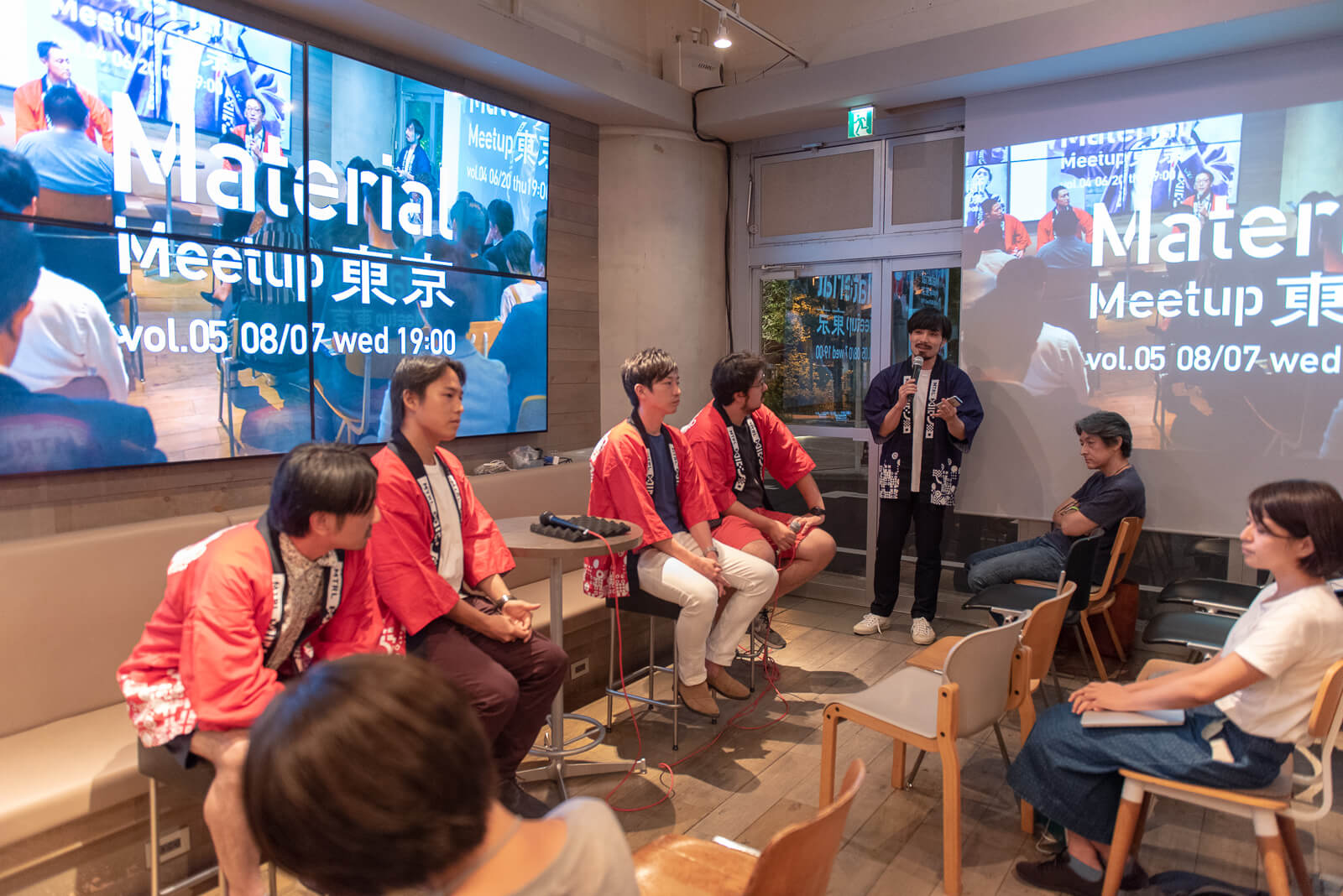 Material Meetup is held in both Tokyo and Kyoto. In Tokyo, it is held about every other month. We will announce plans for the next meeting through the MTRL website and SNS. Please participate if you are interested.